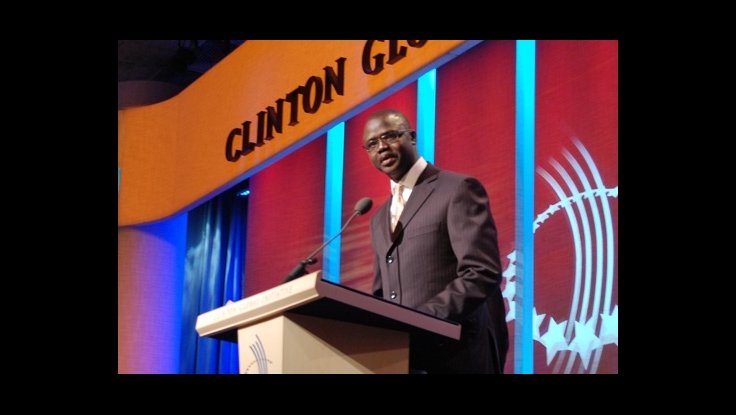 Education
| January 13, 2011
George Clooney Visits Valentino Deng's School in Southern Sudan
Last month, George Clooney visited Valentino Deng's Marial Bai Secondary School
in Southern Sudan to highlight the Sudanese referendum. (Video of Clooney's visit,
here
.) The historic referendum, which began on January 9th, could finally lead to Southern Sudan's independence from the north after decades of devastating violence. The
Times
writes that, "The south is expected to vote by as much as 99 percent for secession, splitting the largest country in Africa in two and taking with it most of Sudan's oil."
But back to Valentino's school for a moment. It's a marvel — a humble but magnificent complex built from scratch that allows students a peaceful place to study. Valentino's school stands, literally, as a powerful reminder of the efforts made by thousands of Southern Sudanese to rebuild their communities in the face of adversity.
One of the Lost Boys of Sudan, Valentino spent his childhood on the run from militias — torn from his family in Marial Bai by the same civil war that displaced millions. If you'd like to learn more about Valentino — and even the protracted history of the conflict in Sudan — a good place to start is with Dave Eggers' hauntingly brilliant book
What Is the What
, which Francine Prose calls "an extraordinary work of witness, and of art." Together, Dave and Valentino also founded the Valentino Achak Deng Foundation, whose first project was building The Marial Bai Secondary School. They even occassionally speak together, when the scheduling works out.
Images above, of Valentino speaking at the Clinton Global Initiative, and below, of students at the Marial Bai Secondary School, courtesy of
Valentino Achak Deng Foundation
.
Read more about keynote speaker Valentino Achak Deng