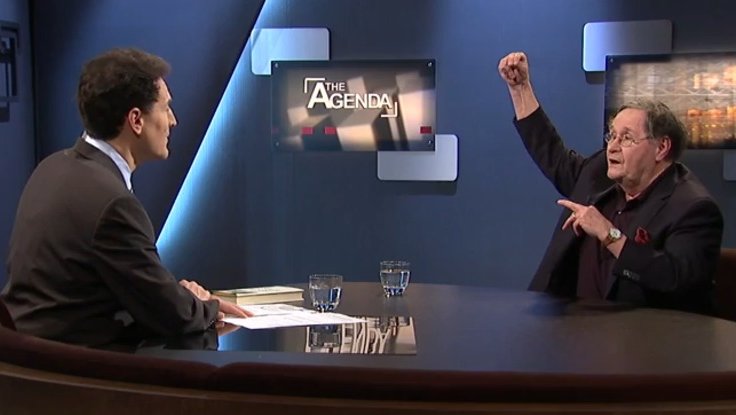 Science
| April 10, 2015
The OCEAN of Personalities: Brian Little Talks Character Traits on The Agenda
In his new book
Me Myself and Us
, personality and motivational psychology expert
Brian Little
asks: How does your personality shape your life...and what, if anything, can you do about it? Little appeared on
The Agenda with Steve Paikin
this week to talk about his book and what our character traits say about us. He and Paikin went through the OCEAN of personalities—Open; Conscientious; Extroverted; Agreeable; and Neurotic—and even discussed where they each fell on the spectrum of traits. Let's go through the list:
O
pen: People who are open "throw themselves into experiences with alacrity," says Little. "They have a willingness to engage."
C
onscientious: These people have "the ability and the disposition to get tasks done, and on time, and to have a well-structured life," Little describes. "It's the best predictor of success in a wide variety of fields."
E
xtroverted: This cuts across the Open category. Extroverts are "open to experiences that involve the outside, the external world," says Little. They're likely to be the first to say: "Let's go skydiving!"
A
greeable: "It's difficult to disagree that agreeable people are agreeable, and pleasant, and great in groups," says Little. Although there can be a downside to being too agreeable. "It may lead them to become overloaded with students, social requests, and so on. They can't say no."
N
euroticism: Neurotic people have "the tendency to focus upon punishment cues. Extroverts look out into the world and see rewards. They see prey. Neurotic individuals see potential punishments or predators," says Little. But are neurotic people unhappy? Perhaps, he says, but "is happiness all there is, or is there a sense of meaning in our lives that trumps happiness?"
Little and Paikin go on to discuss the impact of our personality types at work. Would people be more engaged if their jobs were better suited to their character? It's possible. Take sales for example: "You would think that the best sales people would be extroverted," says Little. "But if you break it down, you find there is a group called ambiverts, and they have an advantage in selling (as do some introverts) because they listen more. They don't just come in with their pitch."
But ultimately, "putting yourself in any slot is dangerous," says Little. Instead of looking at ourselves as a bundle of traits, "people should pursue projects that matter to them, and that often involve acting out of character."
Brian Little is one of the most delightful, charming keynote speakers on the planet: there's a reason he was elected "Favorite Professor" at Harvard for three consecutive years. To book Brian Little to speak at your next event, contact The Lavin Agency speakers bureau.