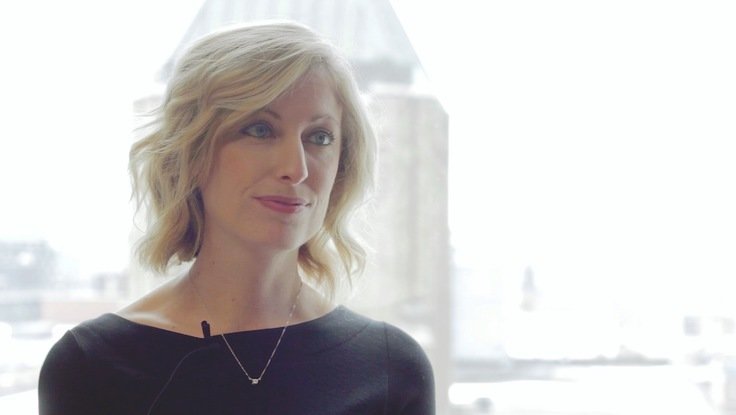 Exclusives
| March 23, 2016
The 12th Floor: Meet Meghan from the Toronto Office
In The 12th Floor series, Lavin's Marketing Writer Spencer Gordon talks to the many amazing professionals who make up the team at our head office in Toronto, Canada. We rely on our creative, intelligent, and passionate staff to represent our roster of world-changing speakers. Here you'll have a chance to meet the great people who work behind the scenes to help you find the right speaker for your unique event, and that the event goes smoothly—from initial inquiry to standing ovation.
Our fourth post in the series features Vice President Meghan Pritchard. Hello, Meghan!
What's your role here at the Agency? And how do you describe your job to others?
I started as a Sales Agent and am now a Vice President in our Toronto office.
I like to describe us as an "Intellectual Talent Agency"—just as musicians and actors are represented by an agency, we specialize in representing many of
the most brilliant, fascinating people
out there speaking at conferences and events. My role as a Talent Agent is to work with organizations and companies across Canada and to assist them in finding the very best speaker for their event.
What's your favourite part about the job?
Firstly, I love that every day I get to come into the office and learn about the work of the diverse array of talented people that we represent. Our roster of speakers is ever evolving and growing so the learning never ends! Secondly, I love working with my clients—the organizations that book their speakers with me. Whether it's a group that I've worked with for years, or a new group working with me for the first time, I always feel a sense of responsibility to ensure that they get the very best speaker possible for their particular event. I work with them by listening carefully to their objectives and budget so that the end result is everything they wanted. There is nothing more satisfying to me that talking to the organizer afterwards to hear what a glowing success the event was and how happy they were with the keynote speaker.

What is the most challenging part about your job?
Technology has changed every industry in fundamental ways. For me and our industry, people often have done a lot of their own research on possible keynote speakers (often by
watching YouTube videos
, etc.) before talking to an agency that specializes in this search. Often this means that when they come to me, they already have a set idea of which speaker (or speakers) they want for their event, and more often than not, the ones that they selected aren't a good fit—either budget-wise or availability-wise. It's never fun to have to tell someone that their dream speaker is a no-go! But I do my best to come up with some great alternative ideas for them and assist their search in getting back on track.
Tell us a little bit about yourself. How did you come to work here? What were you doing before?
For many years (throughout my undergrad and thereafter), I worked in politics for the Liberal Party of Canada, federally. It was perhaps the most exciting time in my life, but when the party lost in 2005, I decided it was a good time to continue my education and was accepted to the Graduate Institute of International and Development Studies in Geneva, Switzerland for a Masters Degree in International Politics. I finished my degree in time to return to my home town of Vancouver, BC and work for a company that was coordinating the logistics for the Russian delegation at the Vancouver Olympics. After that, I thought Toronto seemed like an interesting place to try for a while. I came across the job ad for The Lavin Agency and rest was history!
What is the best (or what were some of the best) keynotes you've seen?
It would be hard to name just one! I have rarely seen someone able to command a room's attention like
Rick Mercer
. One of my current favourites, though, is
Esther Perel
. She is a psychotherapist, and an incredible speaker on human interaction. She recently gave a keynote here in Toronto to a room of high-level sales associates on how we conduct ourselves in our personal and professional relationships. It's not something we often stop to think about and was absolutely fascinating! Over my five years at Lavin, I've also had the chance to book and watch keynote addresses some incredibly memorable speakers like Michael J. Fox, Martin Short, and Alec Baldwin.
Say a client wants to book a speaker. Where should they start?
By
calling one of our fabulous Lavin Agency agents
, of course! We will listen carefully to the objectives of your event and curate a list of the best speakers for you.
How would you help a client find the best possible speaker for their event?
Listening is key. Often for the people we speak with, they are trying to make sense of a lot of complicated (and often wrong) information on speakers out there—who represents whom, a given speaker's fee, and so forth. When you talk to an agent at Lavin, you can rest assured that you are getting the most accurate information possible. Our website is only the start of the information we have available.
Our database
contains thousands of names of speakers—chances are, whoever a client is looking for, I will be able to provide information on them quickly and efficiently.
What would you say to a client who wants to know if our speakers attend dinners, receptions, and so forth—i.e., anything beyond keynote presentations?
Every speaker is different in terms of what they are comfortable doing at events—this is why talking to an agent early in the process is so important. We will not only be able to assist you with finding a speaker who fits the style and objectives of the event, but who also is a fit for any additional requirements (such as VIP receptions, book signings, and so forth). Not all speakers will agree to every requirement, and it's good to know this early in the selection process so it doesn't cause a headache for the organizers later.
After the event is booked, how do you help answer any other questions?
From the moment that your offer to a speaker is accepted,
our incredible team of Event Coordinators
is here to help you every step of the way until the day of your event. They assist with all the logistics of bringing in the keynote speaker—from booking flights to providing any approval for promotional materials. We pride ourselves on giving the best service possible at every stage of your event planning.
That concludes our fourth 12th Floor conversation! To begin the search for the ideal keynote speaker for your next event, get familiar with Lavin's philosophy through our FAQ section, search our roster by idea—motivation, innovation, science, arts and pop culture, and dozens more—or scan through a list of our latest, most exciting keynote speakers.