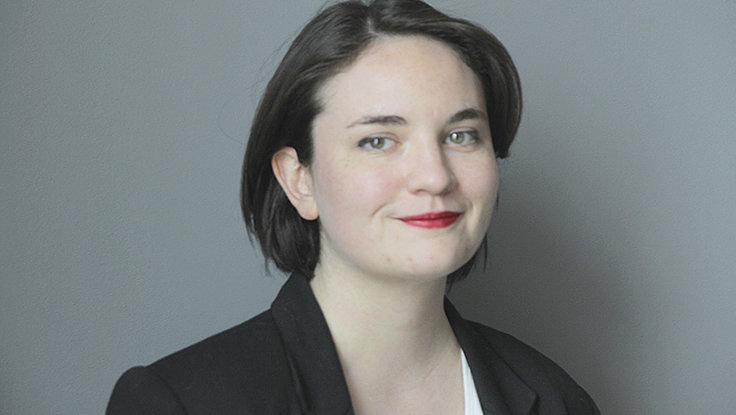 Exclusives
| April 21, 2016
The 12th Floor: Meet Alana from the Toronto Office
In The 12th Floor series, Lavin's Head Writer Spencer Gordon interviews the many fantastic individuals who make up the team here at our head office in Toronto, Canada. The Lavin Agency relies on its creative, intelligent, and passionate staff to represent its roster of world-changing speakers. Here you'll get a chance to meet the professionals who work behind the scenes to guarantee that you find the perfect guest for your unique event, and that the event goes smoothly—from initial inquiry to standing ovation.
Our sixth post in the series features Sales and Marketing Coordinator, Alana Leprich. Hello, Alana!
What's your role here at the Agency? And how do you describe your job to others?
Mainly, I'm a proposal writer: when we're recommending a few speakers for an event, I'm the one who whips up a "mini catalogue" of sorts, outlining a few talented people, their work, and why they'd be the perfect fit. When I'm not doing that, I'm searching for contact information for speakers outside our roster—often time they're celebrities, which is neat—or occasionally helping to write or edit content for our website.
What's your favourite part about the job?
I get to read a ton as part of my job, and everyone who works here is extremely lovely!
What's the most challenging part about your job?
When writer's block hits …
Tell us a little bit about yourself. How did you come to work here? What were you doing before?
My background is in the arts and culture sector. I've worked various roles at not-for-profits like
CARFAC Ontario
—an artists' rights organization—and museum spaces like the
Justina M. Barnicke Gallery
, before working for larger arts institutions like the
Toronto International Film Festival
and the
National Film Board
.
As rewarding as work in the arts is, it's precarious—I was looking for a position with more stability, but where I could still be creative, when a friend suggested I apply to a writing position at The Lavin Agency. That was one year ago!
What is the best (or what were some of the best) keynotes you've seen
?
Not exactly a keynote proper, but when
Sue Gardner
—the former Executive Director of the
Wikimedia Foundation
—visited our office to give our staff a small, private talk, it blew my mind. Her frank, open opinions on privacy invasion, privatization, and gender politics on the Internet really validated many of my own, and I was blown away by how she discussed relatively dark subject matter without making it "doom and gloom." I'm still thinking about what she had to say.
What are some of your favourite books or projects authored by Lavin speakers?
Hands down, my favourite book by a Lavin speaker is
Ta-Nehisi Coates
'
Between the World and Me
. It's essential reading for anyone who wants to better understand the state of race relations in America today. It's also a brilliantly told story, and a beautiful, compelling read. If you haven't read it yet, do.
Any highlights of your time here that you'd like to share?
Getting to see Patti Smith speak—and briefly meeting her—was a definite highlight.
That concludes our sixth 12th Floor interview! To begin your search for the perfect keynote speaker for your next event, get familiar with Lavin's philosophy through our FAQ section, search our speakers alphabetically, search our roster by idea—where you can search for environment speakers, innovation speakers, economics speakers, TED speakers, and many more—or scan through a list of the newest names on our exclusive roster.