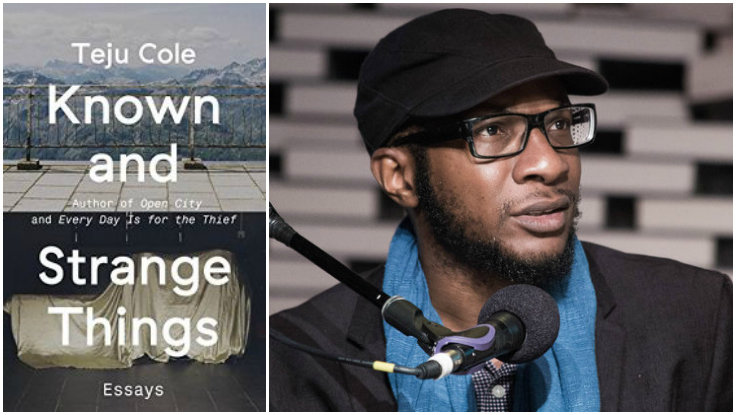 Authors
| August 10, 2016
Teju Cole's Known and Strange Things Gets Glowing Review in NYT
Yesterday (August 9),
Teju Cole
released his third full-length book, the essay anthology
Known and Strange Things
, and already it's being hailed as exceptional. In
The New York Times
, Claudia Rankine has written
an extensive and detailed review,
concluding that "On every level of engagement and critique,
Known and Strange Things
is an essential and scintillating journey." She's particularly complimentary of his analysis of photography, calling it a "stunning second section [that] is especially captivating and reveals Cole's voracious appetite for and love of the visual."
Known and Strange Things
is divided into four sections: "Reading Things," an ode to the writers who have inspired Cole; "Seeing Things," an assessment of contemporary photography the world over, placed within a historical framework; "Being There," of travel, politics, and unforeseen connections; and "Blind Spot," an epilogue in the form of a personal story.
His previous books (both fiction) are
Every Day Is for the Thief
, a
New York Times
book of the year, and
Open City
, winner of the PEN/Hemingway Award.
More praise for Known and Strange Things:
"Read as a whole, [
Known and Strange Things
] shows that Cole has fulfilled the dazzling promise of his novels
Every Day Is for the Thief
and
Open City
. He ranges over his interests with voracious keenness, laser-sharp prose, an open heart and a clear eye. His subjects are diverse and disparate ...There is such richness in these essays that it is not possible, in this short space, to do justice to all their delights."
—
The Guardian
"[A] splendid and wide-ranging new collection of 55 essays with a series of pilgrimages ... walking by his side is an adventure, filled with surprising connections and intelligent provocations."
—
BBC Culture, "Ten Books to Read in August"
"A striking collection of essays that will leave readers wanting to reimagine our contemporary environment ... A bold, honest, and controversially necessary read."
—
Kirkus, starred review
"Cole is a literary performance artist, his words meticulously chosen and deployed with elegance and force. To read, see, and travel with him is to be changed by the questions that challenge him."
—
Publishers Weekly
To book Teju Cole for a keynote, contact The Lavin Agency, his exclusive speakers bureau.