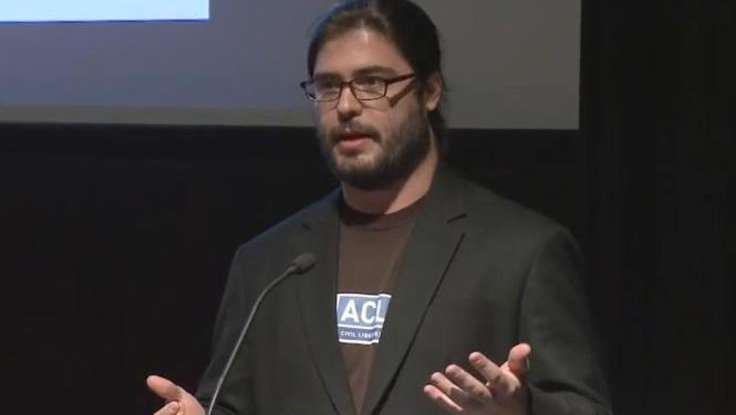 Digital and Social Media
| August 22, 2013
Who's Hacking Your Data? Privacy Speaker Christopher Soghoian
Should we be worried that governments are developing new ways to tap into our lives?
TED Fellow
Christopher Soghoian
is a researcher and privacy activist who's set out to answer that very question. He recently took part in a
TED Fellows Retreat
where he revealed that hacking-as-law-enforcement has become a big business—and it's happening right under our noses. His research into the extent of the FBI's snooping was recently featured in an exposé piece published in
The Wall Street Journal
and quoted by
Mashable
. Soghoian also presented a keynote speech about the topic at the
Def Con Hacking Conference
earlier this month. "What I found is that the FBI is in the hacking business," he told the crowd.
"People should understand that local cops are going to be hacking into surveillance targets," he told
The WSJ
. "We should have a debate about that." A division of the FBI, called the Remote Operations Unit (ROU), has been assembled to develop hacking and spying tools. Often, the government will enlist the help of private companies to conduct surveillance. These third parties range from email providers, search engines, and telephone companies, to companies who enlist their surveillance services online. In fact, through a simple LinkedIn search, he uncovered the names of individuals and companies who publicly list their former ties to FBI surveillance initiatives.
"There hasn't been a debate in Congress about the FBI getting into the hacking business, there hasn't been any legislation giving this power, this just sort of happened out of nowhere," Soghoian
said
in his Def Con talk. "Had it not been for the sloppy actions of a few contractors eagerly updating their LinkedIn profiles, we would've never known about this." We're moving into a new era, he explains, where privacy is more difficult to protect. "The police don't have to tell you anymore," he tells
VICE Magazine in a podcast
. "They don't have to sit outside your house in an unmarked van. The police don't climb telephone poles to tap phones." First, we need to discuss what's happening, he says. What we also need, he tells the
Freedom to Connect Conference
audience, are privacy policies to be drafted in Washington and for telecommunications companies to be responsible for their customer's personal data. The FBI has the technology to tap into your data today and local police will soon have access to it as well—it's time we start taking cybersecurity seriously.
To book Christopher Soghoian—Principal Technologist with the Speech, Privacy, and Technology Project at the American Civil Liberties Union—as a speaker, contact The Lavin Agency.