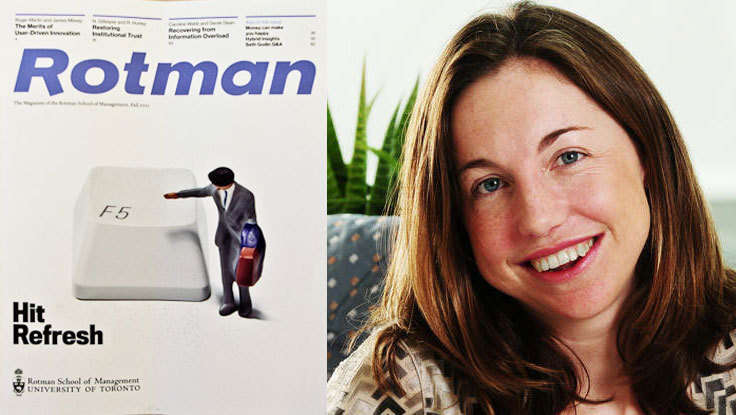 Smarter Spending
| October 05, 2012
Spend Your Way to Happiness: Dr.Elizabeth Dunn and Dan Gilbert in Rotman Magazine [VIDEO]
"If money can buy happiness, then why doesn't it?" According to
Dr. Elizabeth Dunn
, it's because "we don't spend it right."
In an article in the Fall edition of
Rotman
(
Rotman School of Management's
Magazine), Dunn
co-wrote a piece on how to spend your way to a happier life with Timothy Wilson and Daniel Gilbert. Both Gilbert (Professor of Psychology at Harvard and the author of the critically acclaimed
Stumbling on Happiness)
and Dunn (co-author of the upcoming
Happy Money: The Science of Smarter Spending
) know how to make your money work for you. In the article, they lay out seven core principles that will help you spend smarter, and feel more fulfilled in the process.
First of all, the authors suggest buying experiences rather than things. A material purchase may make you feel better in the short term, but an experiential purchase is something you can hold on to for much longer—and it often tends to involve interaction with others, which the authors say is one of the greatest sources of happiness. Stemming from that point, they recommend spending money on others whenever possible—something that Dunn has noted extensively in her book and in her breakthrough keynotes. Since we are such social creatures, helping others builds long lasting bonds that contribute greatly to happiness. This leads into their next point: buy smaller purchases more often rather than larger purchases less often. While splurging on a new car or dream vacation isn't always a bad thing, they argue that buying little indulgences along the way gives you more pleasure more often—keeping happiness high for longer.
They also suggest buying less insurance, paying now and consuming later (rather than buying on credit for immediate consumption) and avoiding comparative shopping. Finally, the authors suggest that you don't lose sight of the joy that your purchases bring, and stress that even though money doesn't always buy happiness—certain purchases can truly make you happier in the long run.