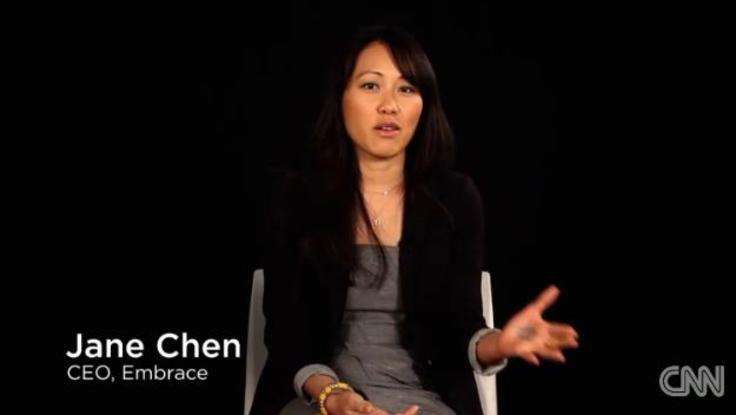 Social Change
| September 19, 2013
Technology Alone Can't Create Social Change: Speaker Jane Chen
"I believe the only way we'll be able to solve infant mortality—and other huge social problems—is by designing solutions for those with the greatest intent to carry it out." That's what
social change speaker
Jane Chen
told
CNN
in a recent op-ed. And, it's one of the guiding principles behind her revolutionary product, the Embrace infant warmer. Following this principle has undoubtedly contributed to the overwhelming success rate of Embrace.
Embrace looks like a miniature sleeping bag designed to keep premature babies warm. A special wax-like material inside the warmer helps to maintain babies' core body temperatures when they are too small to do so themselves. The product has been extremely effective in saving the lives of premature babies thanks to its simplicity. It's especially beneficial to those in countries where access to medical care is limited. "The technology itself, however, is only part of the solution," Chen stresses. "Technology is only an enabler, which can help achieve the intention of the person who is using it. No one has more motivation to save a baby than a mother. And yet, few technologies that address infant mortality are designed for mothers."
Embrace was designed to be used by a mother to help her baby. When testing the product, Chen's team found that women were performing better with the warmer than even doctors or other medical staff. "This makes perfect sense," Chen says, "[because] it's the mothers who are the most intent on saving their babies." Chen has been recognized many times for her contributions. Last fall she was one of the recipients of
Fast Company
's Innovation By Design Award. In the most recent edition of the magazine, they charted Chen's progress: At this time last fall, Embrace had saved an estimated 2,000 babies. Today, that number is more than 10 times that.
In her talks, Chen shows us how brilliant and basic ideas—such as the Embrace Infant Warmer—can save lives, change communities, and inspire others to follow a lead that disrupts the status quo. She shares some of the strategies that helped her overcome Embrace's biggest challenges, such as remembering the needs of the end user, shedding the biases of traditional business models, and valuing simplicity as a guiding principle. Chen teaches us that sometimes the simplest inventions can have the biggest impact. To book Jane Chen as a keynote speaker, contact The Lavin Agency Speakers Bureau.