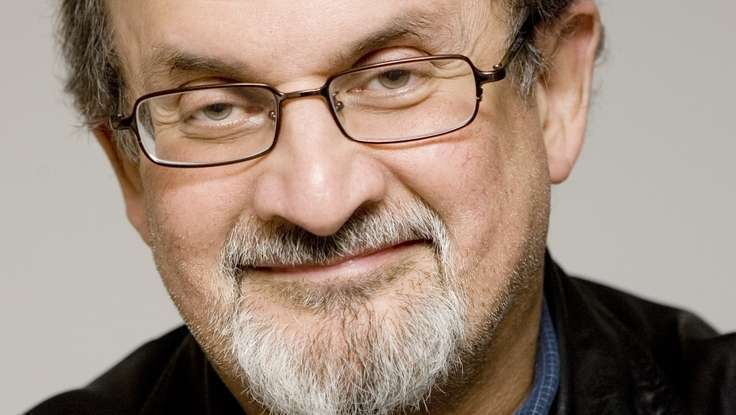 Authors
| February 20, 2013
I've Never Thought Of Myself As A Provocateur: Salman Rushdie
Salman Rushdie
has never considered himself to be a provocateur. As he told the crowd at
his recent keynote
at the
Coe College Contemporary Issues Forum
, he actually considered
The Satanic Verses
to be one of his least political books. "That just shows you writers can be wrong about their work," he joked. He explains that he wrote the book as a personal expression of his own journey through faith and identity. However, the book caused an uproar—and has been so important that it was both ferociously condemned and critically heralded.
Regardless of whether he was intending to cause a stir with his writing or not, his work has certainly been influential—which is why Iowa's Coe College was so thrilled to have Rushdie deliver the keynote address this past month. They chose Rushdie to speak because he is a "distinguished leader whose work has shaped and altered the course of world events." They also
cite him
as "one of the most thought-provoking proponents for free speech today." In his talks, he weaves together "the worlds of literature, politics and philosophy in a show of intellectual pyrotechnics and deadpan humor that conveys fully the texture of modern life." In the presentation in Iowa earlier this month, he explored the pressing issues addressed in his writing and how they apply to dilemmas occurring off the page.
In an interview after his speech with
The Gazette
, Rushdie says his goal as a writer was always to "write books that will last." With a substantial collection of books published under his name and the recipient of the many of the world's most prestigious awards, it is safe to say Rushdie has certainly left his mark on the literary landscape. If that wasn't enough, the fact that he was knighted for "his services to literature" should certainly confirm his influence. A gifted orator and storyteller, Rushie commands attention from his audiences in a way that few others can.