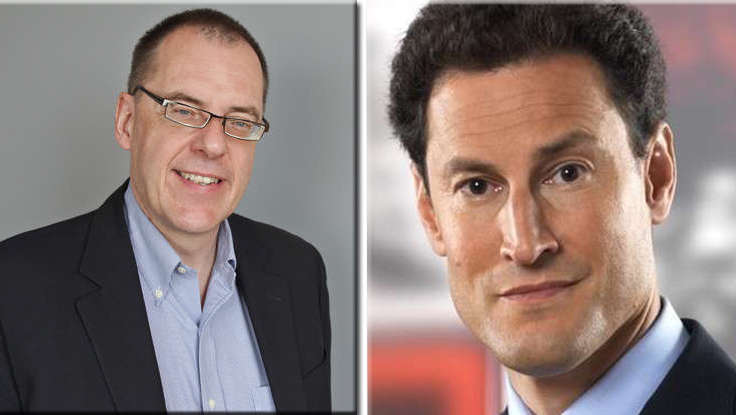 Politics
| September 23, 2013
Picks Of The Week: Two Keynotes From Lavin's Politics Speakers
We've all heard the saying that you should never talk politics at the dinner table. But after watching keynotes by these two powerhouse
politics speakers
, you'll want to break that rule. Current and intelligent, with a flair for engaging delivery, Steve Paikin and John Ibbitson make politics both accessible and fun. For this edition of "Picks of the Week," we're taking a deeper look at the takeaways presented by these two speakers. No matter what party you support, Paikin and Ibbitson have insight into the broader political issues that impact us all. Check out the video where both speakers discuss the day's top political events in the video embedded above!
Steve Paikin
is the go-to guy for tackling current-events in-depth. Whether it's in his respected journalistic endeavours or his keynotes, the anchor and senior editor of TVO's
The Agenda
brings his intelligent analysis to top, headlining stories. He also recently added another book to his list of bestsellers. His newest work,
Paikin and the Premiers
, has generated a lot of buzz so far and has already made it onto
The Globe and Mail's bestseller list
! In his keynotes, Paikin discusses national and provincial politics, offers illuminating insight into the life and work of former Ontario Premier John Robarts—as well as the personal lives of other politicians. With energy and wit, Paikin provides a refreshing look at where our politics have taken us, and where we're headed.
John Ibbitson
is The
Globe and Mai
l's Ottawa Bureau Chief and author of the widely discussed book,
The Big Shift
. He shows us how our political system is decaying (we faced four federal elections in six years), and what we can do to stop this free-fall. He also sheds light into what's truly at stake in the new Canadian political scene. Coupling national pride with objective insight, Ibbitson offers a brilliant talk, keyed to the news—and the mood—of the day. Drawing from points in his book, and experience working at the heart of the political current, he pinpoints how this altered political landscape will impact not only the government, but the media, industry, and all of the citizens who call this country home.
To book a politics speaker, or to discuss our other great keynote presenters, contact The Lavin Agency Speaker Bureau.