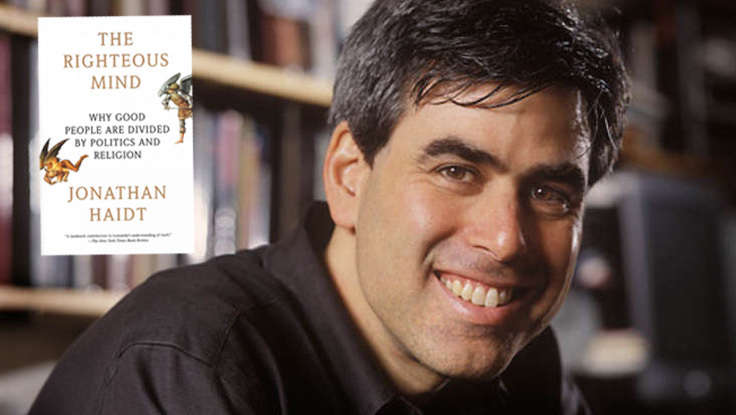 Politics
| March 26, 2013
NYT: Jonathan Haidt's Righteous Mind Is A "Landmark Contribution"
The Righteous Mind
, the breakthrough book by politics speaker
Jonathan Haidt
, is still causing a stir in the media nearly a year after its release. Originally debuting at #6 on
The New York Times Bestseller list
, Haidt's book on the complexities of moral psychology and political affiliation has now been re-released in paperback. An excerpt of his work was recently featured in
Reason magazine
, where it was promoted on the cover.
The New York Times reviewed
the book this week too, and wrote that: "[Haidt] wants to start a conversation about integrating a better understanding of human nature—our sentiments, sociality and morality—into the ways we debate and govern ourselves." They add: "At this, he succeeds. It's a landmark contribution to humanity's understanding of itself." Further, they say that
The Righteous Mind
is "well worth reading."
Haidt also won the
Zócalo Public Square book prize
for his work. On May 3, Haidt will expand on topics found in his book
at a keynote he's giving for Zócalo
at the Museum of Contemporary Art. He gave a short Q&A with them as well where he flushed out some of the predominant themes in
The Righteous Mind
. "I'm not saying we're incapable of reason," he says in the interview, "I'm saying that as individuals we're terrible at reasoning for ourselves, because of the confirmation bias. But if others give us evidence that disconfirms our beliefs—and if we're emotionally open to those people—then we can change our minds and improve our thinking." In the book and his talks, Haidt unpacks the reasons why we can't all just get along—and why our morality divides us. Rational yet optimistic, he argues that we can overcome these differences and learn to compromise when we open our minds up to different points of view from our own.