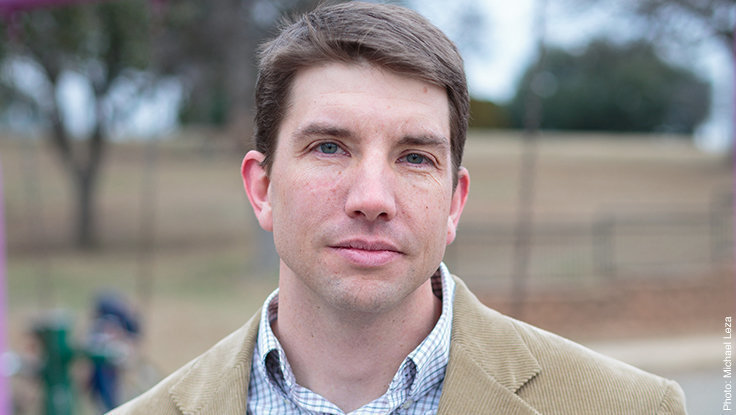 Environment
| March 30, 2016
A Philosopher Confronts Climate Change: Introducing New Speaker Adam Briggle
New technology allows for ever-quicker and more efficient ways of harnessing energy. But in our ongoing pursuit of cheaper resources, are we ignoring the potential for environmental damage? In other words, has our ability to innovate outstripped our capacity to think long-term? To
Adam Briggle
, considering the big picture is essential for solving the world's problems, and especially those of an environmental nature. His book
A Field Philosopher's Guide to Fracking
("A rousing account of a great people's victory"—Bill McKibben) details his grassroots campaign to ban hydraulic fracturing for natural gas in Denton, Texas. In impassioned talks, Briggle tells a tale of philosophy in motion. He shows audiences that civic action is alive and well, that no policy is unassailable, and that philosophy is as relevant as we make it.
As the leader of
Frack Free Denton
, Briggle rallied his fellow citizens to ban local fracking operations; and by November 2014, they'd help push through a landmark ban with nearly 59 percent support. However, Texas state legislature quickly enacted House Bill 40, nullifying the ban and pre-empting further efforts of its kind. Briggle, undeterred by the setback, blocked the entrance to a reopened fracking site—and was promptly arrested. This act of civil disobedience is evidence of Briggle's role as a "field philosopher": someone for whom community-minded activism is the natural result of deep thinking.
In his stirring keynotes, Briggle demonstrates how philosophy and practicality can, and do mix. Through the microcosm of fracking in north Texas, he sheds light on larger, systemic issues—and challenges the fundamental premises of what it means to live well. Real-world problems—scientific, technological, ethical, or political—all have philosophical dimensions, and Briggle is here to uncover them.
Briggle is a professor in the philosophy and religion department at the University of North Texas, and his work has appeared in
The New York Times
,
Slate
, and
The Guardian
. He's been interviewed by NPR, the BBC, and the
LA Times
, and holds a PhD in Environmental Studies. In his story of civil disobedience, of triumph and heartbreak, and of friends, families, and neighbors unifying for a common cause, Briggle reminds us that change can begin right in our own backyards.
To hear environment speaker Adam Briggle discuss fracking and philosophical activism, contact The Lavin Agency speakers bureau.