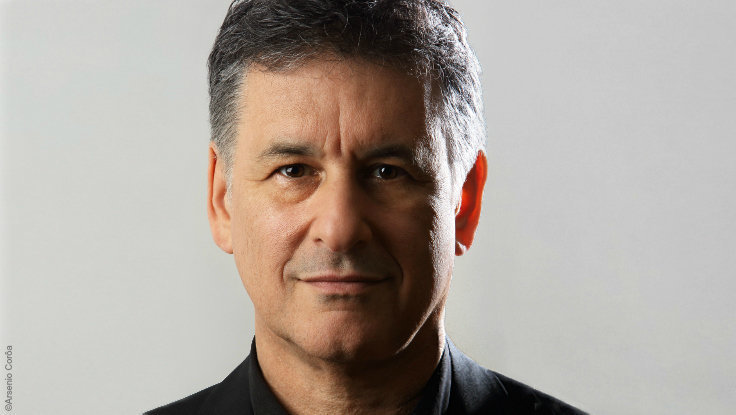 Education
| October 20, 2015
Music, Science, & the Organized Mind: Introducing New Speaker Daniel Levitin
We're thrilled to announce that neuroscientist, award-winning musician, and bestselling author
Daniel Levitin
has joined our roster of exclusive keynote speakers. Author of the renowned (and bestselling) books on music
This Is Your Brain on Music
and
The World in Six Songs
, Levitin's latest is
The Organized Mind
: a clear-thinking roadmap for navigating our world of digital clutter and information overload.
As a musician and author of over 100 popular articles on composition, Levitin's performed with acts like Mel Torme, David Byrne, Rosanne Cash, and Sting, and produced and consulted on albums for icons like Stevie Wonder and Steely Dan. For his contributions to the recording industry, he's been awarded 14 gold and platinum records. Not satisfied with one practice, Levitin is also an academic specializing in cognitive psychology: as James McGill Professor of Psychology and Neuroscience at McGill University, he received the school's highest teaching honour in 2006, and runs the cutting-edge Laboratory for Music Cognition, Perception, and Expertise.
As befits his expertise in multiple fields, Levitin speaks on a number of engaging, interrelated topics. In standing with his most recent book,
The Organized Mind
, Levitin now gives an inspiring keynote to help us find ways to improve our focus, decision-making skills, and well-being. This is an especially relevant talk for leaders and managers in all sectors. By studying the habits of highly successful individuals—CEOs, scholars, scientists, and more—Levitin has much to impart about how to best manage our busy lives, and offers great recommendations for strengthening memory, taking charge of the brain's natural adaptability, and channeling attention.
In addition, Levitin also speaks on education—on both the radical shifts that are necessary to embolden and enliven the arts and sciences in the 21st century, as well as on the value of the liberal studies, and how its world- and mind-expanding benefits may be the key to success in our complex world. As a highly honored professor, he is activating the classroom, inspiring debate, and encouraging curiosity.
Finally, in keeping with his first two books and his many awards, Levitin offers customizable keynotes that touch on music, the brain, and the neuro-anatomy of music—in other words, musical stimulation, composition, performance, pleasure, and its role in shaping every human culture. Levitin can also be booked for an evening of illuminating and entertaining conversations about inspiration and the science of creativity with a special musical guest. Past and potential celebrity guests include David Byrne, Rosanne Cash, Paul Simon, Ben Folds, Bobby McFerrin, and other stars who need no introduction.
Daniel Levitin helps professionals regain mastery over their lives with insights from neuroscience and the neuro-anatomy of music. To book Levitin as the keynote speaker of your next event, contact The Lavin Agency speakers bureau.