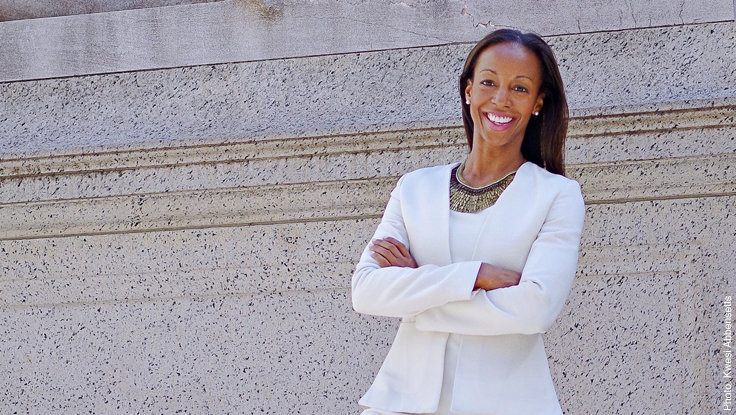 Diversity
| June 28, 2016
Moving Pictures: The Significance of Sarah Lewis's "Vision & Justice"
In "Celebrating Black Culture With a Careful Eye,"
The New York Times
conducts an in-depth new interview
with diversity and innovation speaker
Sarah Lewis
, who has been making headlines everywhere for her
stellar guest-edited issue of Aperture magazine
. Titled "Vision & Justice," the issue is a showcase of photography and writing that informs the cultural narrative surrounding African-American experiences.
"We're living in this increasingly polarized climate in society, where we tend to live amongst people who vote the way we do, have religious beliefs that are like ours, oftentimes of the same race," Lewis tells
The New York Times
. "And what that means is that the way we process worlds unlike our own comes down to the media we see, and the pictures that we consume."
Lewis's
Aperture
issue is a roll call of today's prominent black photographers and writers, including a set of images captured by new Lavin speaker
LaToya Ruby Frazier
and introduced by
Teju Cole
. "Vision & Justice" is, unsurprisingly, garnering plenty of praise—not just for its revealing portrayal of African-American life, but because it's a reminder of the impact of well-made, print photography.
Here's just some of the acclaim for "Vision & Justice":
"In her framing of the collaborative work and commentary spread throughout the issue, Lewis draws from both history — the concept was inspired by abolitionist Frederick Douglass and his Civil War speech 'Pictures and Progress' — and the present, noting the heightened visibility of racial injustices captured and disseminated on various forms of social media, such as Instagram, where the young photographer Devin Allen chronicled the unrest in Baltimore after Freddy Gray died in police custody. Lewis, who is assistant professor of history of art and architecture and African American Studies at Harvard University, assembled a magnificent lineup of creatives and writers to reflect on 'what aesthetic force can do' as seen in the equally spectacular range of images by photographers and artists."
—
LA Times
"The artists' keen insights are honed to even finer edges by the incisive criticism given by the scholars whose words compliment each set of images...This book equips one not just to see, but to see more. This throng of visual and written essays wants to increase the spectrum of what's visible in the world around us."
—
Hyperallergic
"To give full representation of blackness and Afro-American culture, the issue brings together the work of a broad range of photographers who, in different times and places, have chronicled the resilience, beauty, and values of black people. It's an extensive exercise in "retrospective" and correction where the breadth of the works restores a plurality of topics necessary for full representation of the black experience."
—
TIME
"It is an insightful volume that reveals the weight and urgency of images that Ms. Lewis described as offering 'correctives to the sometimes denigrating narratives of African-American life.'"
—
The New York Times
"Each series communicates a different picture of blackness, simultaneously personal and universal in the way true stories often are. The photographs, immensely valuable in their own right, also serve as flares in a larger cultural consciousness, images that turn witnesses into activists."
—
The Huffington Post
"The issue advances the idea that representation politics are a necessary stepping-stone on the road to progress. Featuring specifically curated starting points on the black experience, 'Vision & Justice' charts an urgent path into racial and political territories that are often left unexplored by mainstream arts publications."
—
VICE
"Ms. Lewis...has performed a magic trick of sorts. She threaded together subjects as seemingly disparate as the visual legacy of Frederick Douglass, 'the most photographed man in nineteenth-century America,' according to the magazine, and Radcliffe Roye's contemporary visual meditations on the majesty of walking."
—
The Wall Street Journal
To hire diversity speaker Sarah Lewis for your next event, keynote, or conference, contact The Lavin Agency speakers bureau today.