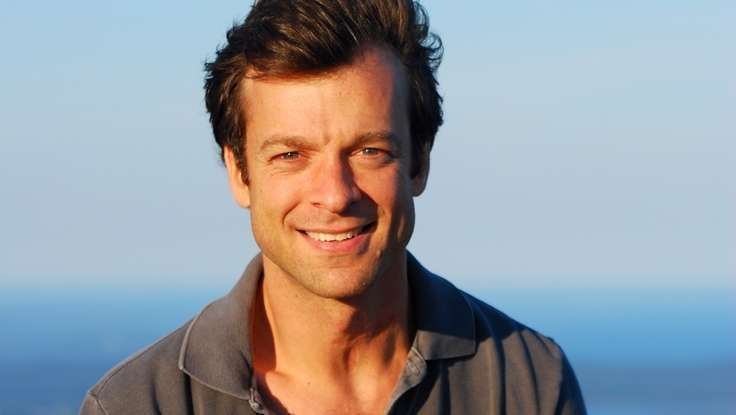 Motivation
| May 23, 2013
Half-Life: How Joshua Prager Exerted "Agency Over An Ungovernable Act"
After a terrible car accident left
Joshua Prager
with a broken neck (which initially rendered him a temporary quadriplegic, and, eventually, left him a hemiplegic) he was full of questions. "Was it owing to the crash that I was not married, that I was ever-mindful of time, that people seemed to tell me what they told no one else?" the motivation speaker writes in a new
opinion piece for CNN
. "I wondered if my crash-mates wondered similar things. I wondered how they had made sense of the crash. And so, 22 years after it, I set off to look for them." In his new critically acclaimed book,
Half-Life: Reflections from Jerusalem on a Broken Neck
(and his unforgettable
TED Talk
, embedded above), he documents the events of his crash, and reflects on the way one fleeting moment can forever change your life.
Prager eventually sought out the others involved in the crash. He did so, he says, to help him find the answers to the burning questions he had about the accident and how his life was forever altered. As a journalist, Prager has made a career of telling other people's stories. In recounting the events of the crash, and meeting the other victims, he was compiling the facts to tell his own. In his book, he composed his own narrative in order "to make sense, to reflect, to contextualize," he writes, "the obvious efforts of a once passive victim to exert agency over an ungovernable act." He continues: "That agency is important for the writer. It is what enables him or her to wring meaning from facts and observations, and then be free of them." And, when he tells his story (whether in his writing or his talks), perhaps he can help his audience answer a few questions of their own.
Here's an excerpt from
Half-Life: Reflections from Jerusalem on a Broken Neck
, recently featured in
Slate Magazine
:

I tried to write of the crash but failed. Instead, for a decade, I wrote of secrets. There was the reclusive boy who inherited the royalties to the classic children's book Goodnight Moon. There was the hidden scheme that led to baseball's most famous moment, the Shot Heard Round the World. There was the only-ever anonymous recipient of a Pulitzer Prize, a photographer in Iran. There were the unknown suicides of the parents of the most famous missing person in World War II.

It took a friend to point out to me the obvious: all of these stories mirrored my own, each centering on a life that changed in an instant—owing, if not to a crash, then to an inheritance, a swing of a bat, a click of a shutter, an arrest. Each of us had a before and an after. I had been working through my lot after all.

A second friend helped me to see that I was, in effect, forcing my subjects—one solved secret at a time—to live with their altering moment just as I did: openly. Whereas a depressed person can choose to conceal her disability, to meet me is to see that I use a cane. And that openness works for me. (Best I can tell, openness has unburned those I have written of, too.) "I've always preferred directness," I wrote long ago in my journal. "It's liberating and dignified."

But as I continue now on my walk and turn left onto King David, I am less sure of what I, not others, see in me and my broken neck. I have returned to Jerusalem to find this out, to become again whole where I was once divided.