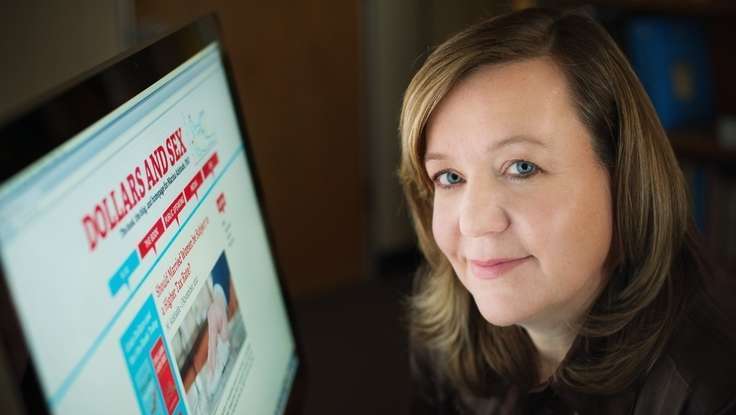 Authors
| February 19, 2013
The New York Times Shows Some Love to Dollars & Sex by Marina Adshade
As it turns out, Economics 101 has just as much to teach us about matters of the heart as it does about stock markets and money. That's the topic of the forthcoming book by
Marina Adshade
—a book that is already causing quite a stir. Fresh off the buzz from a
cover story in The National Post
,
Dollars & Sex
has also been cited in a
New York Times feature
and in
Maclean's
Magazine. In the
Times
, Adshade's "delightful" new book is heralded for making a very interesting argument: the search for love operates in a very similar manner to the way that cost-benefit logic does in the marketplace. Supply and demand, it seems, doesn't only affect the price of goods—but your ability to find a romantic partner, as well.
While emotions still play a major role in choosing a partner, economic forces cannot—and should not—be ignored. It's not as if supply and demand rules are the only governing forces that determine the future of your love life, the article explains. However, the social norms that dictate courtship rituals are often shaped by the cost-benefit analysis model typically used in economics. Adshade's research also applies to less traditional forms of courtship such as the recently emerging "hookup culture" and online dating. Once more it comes down to supply and demand, people tend to choose partners more like themselves when they meet online because there is greater access to potential partners, Adshade explains in
Maclean's
. Offline, the dating pool is much smaller than online. This caused people to pick mates who may not have that much in common with them—until the Internet increased the size of that dating pool ten-fold, that is.
In her keynotes, Adshade expands on the ideas she writes about in her book. She also teaches these ideas to eager students at the Vancouver School of Economics at the University of British Columbia and on her blog. Economics has more to do with our daily lives than we may think. And, as Adshade explains, the more you understand how money impacts your dating life—the better you can combat the shortfalls in your relationships and understand the trends that guide modern courtship.