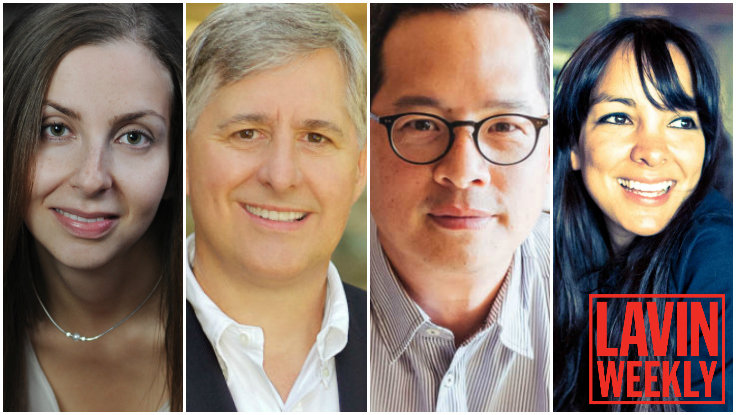 Exclusives
| September 09, 2016
Lavin Weekly #53: Konnikova, Lyons, Chang & Agrawal
1. Maria Konnikova: Why Are Babies So Dumb?
Humans are the most highly evolved species on the planet. But compared to other newborns, our babies are borderline useless. Giraffes can stand an hour after birth, and infant monkeys can cling to their mothers for protection. Our babies, by contrast, can't even hold their own heads up. What gives? In
The New Yorker
, science and psychology blogger
Maria Konnikova
may have
the answer
. In a recent paper, researchers at the University of Rochester posit that "the more intelligent an animal will eventually be, the more relatively immature its brain is at birth." Generally, the larger the head, the more intelligent the animal. But the birth canal imposes an upper limit on head size; thus babies' heads keep growing (and brains keep maturing) long after birth. For the full study, and for Konnikova's unique take,
visit her blog
over at
The New Yorker
.
2. A Baby Boomer in Startup-Land: Dan Lyons's HubSpot Saga
At the age of 52,
Dan Lyons
was laid off from his job as technology editor of
Newsweek
. Seeking a fresh direction, he joined Boston marketing solutions group
HubSpot
, quickly becoming embroiled in the world he'd written so much about—the confusing, nonsensical, and often contradictory land of startups. Lyons arrived at HubSpot under the dubious title of "marketing fellow," and found himself in the middle of a workplace that better resembled a cross between fraternity and playground than an office. There were walking meetings, office dogs, and candy walls. Everything was bright orange, and everything was "awesome." He felt ridiculous. The whole ordeal is chronicled in Lyons's new book
Disrupted
, a hilarious cautionary tale that makes light of, but also seriously examines, the flaws in the startup economy. This week, he was
interviewed in The Guardian
, and besides discussing HBO's
Silicon Valley
, which he has written for, and the problems facing startups, Lyons spoke on reinventing yourself in middle-age, which many "disrupted" professionals are now being forced to do.
"I wanted to write a book about what it's like to be 50 and trying to reinvent yourself – that struggle ... It takes you to some places you'd rather not go and you confront things about yourself you'd rather not think about or admit to. It was a really unpleasant experience. A big part of it is being forced to confront my own mortality. I'd never felt old before."
Grab a copy of Dan Lyons's
Disrupted
today. It's informative, brilliantly written, and laugh-out-loud funny.
3. Jeff Chang's We Gon' Be Alright Out This Week
Next Tuesday (Sept. 13), diversity speaker and journalist
Jeff Chang
is set to release his new book.
We Gon' Be Alright
is his third, and follows
Can't Stop Won't Stop
, a cultural and social history of hip-hop, and
Who We Be
, an examination of racial progress in post-Civil Rights America. But unlike his first two works,
We Gon' Be Alright
takes the form of an essay collection—each one confronting a different aspect of modern race issues: cultural equity, student protest, resegregation, and Ferguson, among others.
The Washington Post
caught up with Chang
yesterday to discuss the book, the Black Lives Matter movement, the significance of Beyonce's "Lemonade," and more. "We need to call attention to the fact that we don't naturally fall into a situation that is equitable," Chang says. "Equality is something we have to fight for. And I think that is ultimately the point of the book, to get people to see that it takes concerted thinking and action and attention to be able to bring about a just society." Look for the book in stores next week, or, in the meantime, explore some of Chang's earlier work (like the American Book Award-winning
Can't Stop Won't Stop
).
4. How THINX's Miki Agrawal Got Her Health Back
Social entrepreneur
Miki Agrawal
is the creator of THINX, a period-proof underwear solution for women that's taking the market by storm. And it's more than just a financial venture: THINX have teamed up with AFRIpads Uganda to provide reusable cloth pads those in need, and have helped more than 30,000 girls get back to school. She was named 2015's Social Entrepreneur of the Year at the World Technology Awards, and THINX was named to
Time Magazine
's "25 Best New Inventions of 2015," but back when she was building her company, Agrawal was facing significant health issues.
In an interview with
Well and Good
, Agrawal tells how in 2013, heart palpitations sent her to the doctor, who then diagnosed her with acute hyperthyroidism—which speeds up bodily functions, leading to anxiety, weight loss, and sleep problems. Faced with a dilemma—have her thyroid removed or undergo radioactive iodine therapy—the unconventional Agrawal blazed her own trail. She axed sugar, dairy, gluten, and processed foods from her diet. She took up yoga and meditation. And after three months, her thyroid levels began to stabilize. But beyond concrete changes, Agrawal embraced five principles that helped her turn her life around. Head over to
Well and Good
to read Agrawal's
five tips for reclaiming your health
. And for more Agrawal, check out her inspiring videos on her
speaker page
.
To choose from The Lavin Agency's roster of world-changing speakers—including
The New Yorker
's Maria Konnikova,
Disrupted
author Dan Lyons, social historian Jeff Chang, or social entrepreneur Miki Agrawal, contact us today.