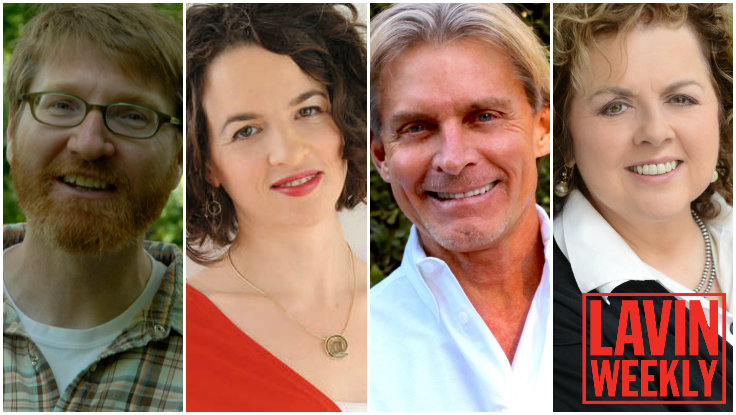 Exclusives
| June 03, 2016
Lavin Weekly #40: Klosterman, Samuel, May, & Garrett
1. But What If We're Wrong? Chuck Klosterman in GQ, NYT, WSJ
Cultural critic
Chuck Klosterman
's new book
But What if We're Wrong?
is an exploration of the blind certainty each generation has in its own beliefs, values, and practices. We're convinced that our science, our politics, even our sports and music are untouchable, but how will 21st-century culture hold up in 100 years? 500 years? 1000 years? Which art forms will survive? What scientific ideas will be completely outmoded? As with any Klosterman effort,
But What if We're Wrong?
is sure to be witty, stimulating, and culturally relevant (at least in this century). If you can't wait until the June 7 release date, Klosterman has been sharing excerpts of the book across various popular media. In
The New York Times
, he speculates on which rockstar will stand the test of time—and the answer might surprise you. In
The Wall Street Journal
, he talks about Eddy Grant's 1983 earworm "Electric Avenue" as a gateway to the wider world of pop culture in his youth. And in
GQ
, he ponders football—how long can such a dangerous game persist? And if it does survive, what will the game look like?
2. Alexandra Samuel Shows CEOs How to Facebook in the WSJ
Seventy-three percent of Americans use Facebook every day. Only 27 percent use Twitter. The figure drops even further—to 17 percent—for LinkedIn. Because Facebook is so widely used, CEOs need to embrace having a public Facebook persona, says social media strategist
Alexandra Samuel
, rather than limiting themselves to Twitter and LinkedIn. "Used properly," she says, "a CEO's Facebook presence can support a company's growth and provide a channel for engaging with employees, customers and the public." Samuel lays out seven typical pitfalls of c-suite Facebooking—among them creating multiple profiles, invading employees' privacy, and flat out ignoring the platform. For the rest of Samuel's faults and fixes, head over to
The Wall Street Journal
and
read the full article
.
3. Matthew E. May Explains "Not Invented Here" Syndrome for Inc.'s "Brain Game"
Innovation speaker
Matthew E. May
is new to our roster, but he's no rookie on the circuit. May is the author of five bestselling books, the newest of which is
Winning the Brain Game
, an examination of seven "fatal flaws" in business thinking and the solutions for overcoming them—a healthy pairing of neuroscience principles and mindfulness techniques. This week, in the book's accompanying
"Brain Game" column
for
Inc.
magazine, May investigates "Not Invented Here" Syndrome—the tendency to reject ideas we didn't think of ourselves. Often, we succumb to NIH because we're reluctant to wrap our minds around new frameworks, or because we feel threatened ("I should have thought of that myself!") Processing new concepts forces the brain to make new neural connections, May says, and so we naturally overlook other people's ideas. Not only does original insight release a rush of good-vibe neurochemicals, but it's actually easier on our brains. To hear May's fascinating and practical "Brain Game" keynote,
contact us today
.
4. WHO Funding and Fairy Dust: Laurie Garrett on Zika
Pulitzer Prize-winner
Laurie Garrett
is among the world's most trusted public health experts specializing in infectious disease—and with the recent outbreaks of yellow fever and Zika virus, her thoughts are more relevant than ever. In a
recent Foreign Policy feature
, Garrett questions the World Health Organization's budgetary decisions, especially the sustainability of their Zika funding. "For the last two years," Garrett says, "the assembly has added the equivalent of fairy dust to the mix, voting for budget increases but then leaving it up to Director-General Margaret Chan to mysteriously conjure up the agreed-upon additions." These funds are often re-allocated from other UN initiatives or ponied up by private donors, and the long-term efficacy of such strategies seems shaky at best. Garrett suggests slashing expenses in WHO's upcoming election, but admits that the process, generally bereft of transparency or representation-by-population, is likely to amount to more fairy dust. For a journalist who's unafraid to voice her opinion—one that's long been respected in the arena of global health—book Laurie Garrett for a keynote.
The Lavin Agency represents a roster of world-changing keynote speakers in the arts, economics, science, leadership, education, innovation, and much more. To hire Chuck Klosterman, Alexandra Samuel, Matthew E. May, or Laurie Garrett for your next conference or event, contact us today.