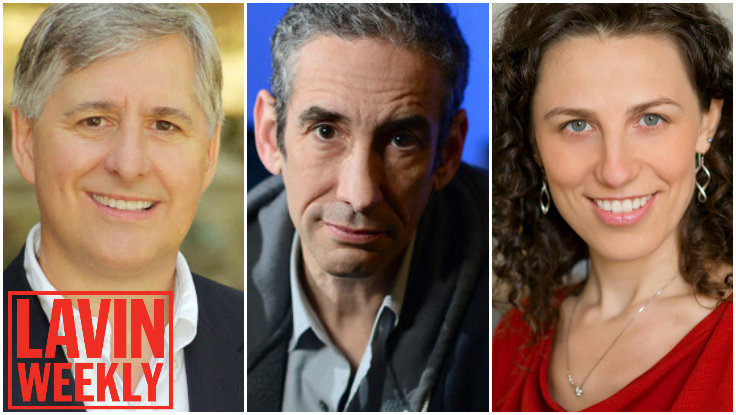 Exclusives
| April 15, 2016
Lavin Weekly #33: Lyons, Rushkoff, & Gino
1. Dan Lyons, HubSpot, and a Book that Captures the Zeitgeist
Dan Lyons
' new memoir
Disrupted: My Misadventure in the Start-up Bubble
is undeniably one of the hottest business books of the season. Not only is it a scathing and hilarious take on HubSpot—the flashy tech start-up where Lyons turned for work after he was laid off (at the unfortunate age of 50)—but it's also a critical and timely look at start-up culture in general, and how "bad ideas are rewarded with hefty investments, companies blow money lavishing perks on employees, and where everyone is trying to hang on just long enough to reach IPO and cash out." Now, the co-founders of the much-lambasted company are responding—and not offering much in the way of a comeback. Not only do the co-founders avoid talking about Lyons' most colorfully depressing experiences, but they avoid the major issue of ageism that
he expands on
for
LinkedIn Pulse
.
Fortune says
the Boston-based HubSpot guys "use a lot of words to say relatively little," while another Boston-centric mag,
BostInno
, say they're
"Losing the PR War with Dan Lyons."
They write: "it appears that Lyons has won this public relations battle. There's just been a ton of media coverage for
Disrupted
… his message that the company is representative of the bigger problems in [the] tech industry does seem to ring louder." To see for yourself how Lyons fared among the brogrammers and the tech ideologues, get your hands on a copy of
Disrupted
—or book him for a funny, incisive keynote on how the new world of business really works.
2. Douglas Rushkoff Talks Wealth and Our Winner-Takes-All Economy
Our economy has worked for three or four hundred years—but major problems arise when you "juice it up with digital steroids," says
Douglas Rushkoff
in this
great Big Think video
. The prevailing business philosophy of the moment is all about power law dynamics and a "winner take all" mindset—in other words, it's about having a growth (and exit!) strategy, regardless of how successful or functional a business is. As Rushkoff explains, Twitter is considered a failure by Wall Street, even if it makes $500M per quarter, simply because it won't be expanding into new markets and becoming something it isn't. This is a problem all across the economy: if we answer only to shareholders, hang on to companies just long enough to cash out, and in our urgency to extract value, forget to invest in each other and our communities, we're heading toward a disaster—in employment, resource scarcity, and for the earth itself. But Rushkoff has some solutions, thankfully—and they're articulated in his latest book
Throwing Rocks at the Google Bus
:
a major work that reminds us how to exchange, distribute, and prosper. To learn more about Rushkoff's thoughts on innovation and wealth, and his suggestions for rebooting the digital economy,
contact The Lavin Agency
, his exclusive speakers bureau.

3. Francesca Gino and the Quest to Optimize Stress
In the new article
"Are You Too Stressed to Be Productive? Or Not Stressed Enough?"
in the
Harvard Business Review
, behavioral scientist
Francesca Gino
offers some research-backed suggestions for finding the optimal balance of stress at work (or anywhere, really). Productivity and motivation and time-management—elements of work that we're all trying to manage—are often
rooted in stress
, or lack thereof. While stress can be unhealthy, Gino admits, new findings reveal that it can also improve performance. But it's all about finding a balance. Too little stress (or 'arousal,' as the article calls it) is detrimental to productivity; too much stress means our work is impaired due to anxiety. There's a goldilocks middle zone of "optimal arousal and optimal performance" we should aim to arrive at. For those of us on the "too little" side, we can raise stress healthily by "taking on more challenging tasks or responsibilities," argues Gino. And for those of us who feel too much stress, it's recommended that we strive to increase feelings of self-control, act in more authentic ways, and cultivate rituals in order to feel more relaxed and refreshed. For more insights into how we can keep on track and make better decisions, book Francesca Gino for a fascinating keynote today.
To book a keynote from Dan Lyons, Douglas Rushkoff, or Francesca Gino on start-up culture, digital economics, productivity, or more for your next event, contact The Lavin Agency speakers bureau.