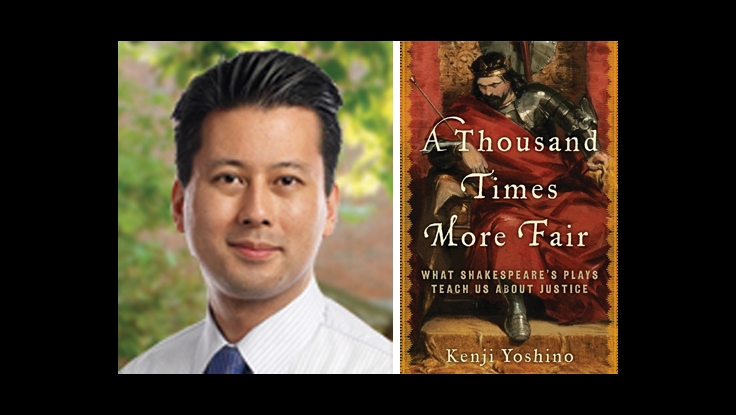 Justice
| February 16, 2011
What Shakespeare Teaches Us About Modern Justice: Kenji Yoshino's 'A Thousand Times More Fair'
Even if, like me, you're not a particular fan of Shakespeare,
you'll still get a lot out of
Kenji Yoshino
's brilliant new book,
A Thousand Times More Fair
, which shows us how the Bard got it so right, so long ago, on so many issues of modern justice. Of course, if you are a fan, the book offers a startlingly new appreciation, and another reason to revisit Shakespeare's plays. In the book, Kenji explains, for instance, how the white handkerchief in
Othello
eerily foreshadows the "black glove" of the O.J. Simpson trial as forms of physical evidence that overwhelmed deeper questions of guilt and innocence. Other parallels abound, with examples that include the confirmation hearings of Justice Sonia Sotomayor, the war in Afghanistan, and other talking points ripped from the headlines.
A Thousand Times More Fair
is a captivating read by an author and lawyer who loves literature and the law equally, and who, in this one-of-a-kind book, makes definitively clear that the two aren't mutually exclusive.
If you would like to invite Kenji Yoshino to deliver his keynote on Shakespeare and justice, please
contact us
today.
Here's
Publishers Weekly
's
review
of
A Thousand Times More Fair
:
Yoshino, a constitutional law professor at NYU, looks at the concepts of justice in Shakespeare's major plays as they relate to the role of law in modern society and to particular events in today's world. Perhaps for the shock value alone, he begins with the horrifically violent Titus Andronicus, a play driven by an ever-widening circle of revenge. After contemplating the meaning of revenge, Yoshino surprises, as he often does, by arguing that America's wars in Iraq and Afghanistan are wars of revenge. As another example, he mines Measure for Measure for thoughts on the qualifications judges need and applies those ideas to Supreme Court Justice Sonia Sotomayor's confirmation hearings, which were a debate on "a timeless conflict between alternate visions of judging." Yoshino uses Hamlet to examine the danger of ideas unlimited by pragmatism; Lear to explore the limitations of law; The Tempest for self-restraint in governance — all to frame his views of fundamental questions of jurisprudence. It is a happy marriage between two enduring intellectual endeavors: understanding Shakespeare and understanding our explicit and implicit notions of justice. Readers will find Yoshino provocative, often controversial, and Shakespeare, as always, entertaining.
Read more about keynote speaker
Kenji Yoshino