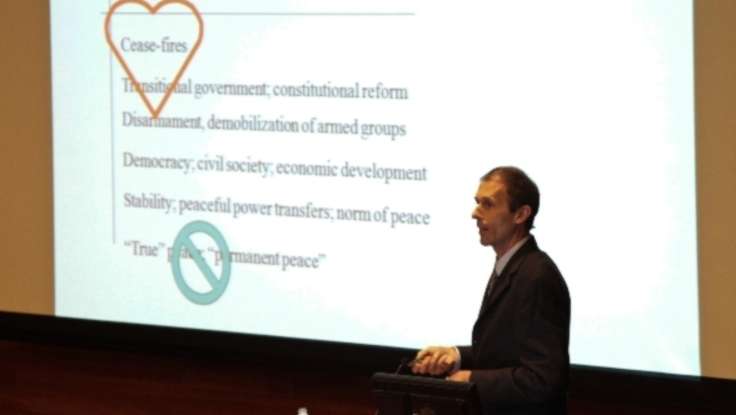 Foreign Policy
| November 17, 2011
Joshua Goldstein: Are We Facing a US-China Cold War?
Preeminent IR expert Joshua Goldstein
wrote the book on international relations. Literally. It's a textbook, aptly titled
International Relations
, used by thousands of university students. Goldstein is also a keen observer of America's current foreign policy maneuvers.
Writing
in the
Huffington Post
this week, he dissects a "pivot" being made by the Obama administration that could lead to deeper trade and cooperation if done correctly, or lead to a new Cold War with China, if bungled. Goldstein identifies three prongs to the Asian shift:
The first is straightforward enough, and benign. The Asian economies are growing and the United States wants to export to them and create American jobs.... The second element is a worthwhile, though delicate, effort to bring China's economic policies more in line with the global "rules of the road," or to "level the playing field" (both metaphors Obama uses).... The third element, and the most problematic, is a strategic concept of pivoting US military forces to beef up a presence in the Asian neighborhood in order to counteract a perceived expansion of China's military power in the region.


The third point warrants greater attention. Goldstein points out that the US often loses track of Chinese military realities, such as the fact that China's forces are still no match for America's and China itself hasn't fought a battle in 25 years, instead locking into a pattern of "delivering prosperity and growth, not militaristic bombast." His conclusion is that America has nothing to gain from clumsy military posturing. "If the "pivot" to Asia were recast as a new focus on improving the US-China relationship as a bedrock of the region's security architecture, it could be a great idea. If it evolves as a new Cold War directed at a country that is not even an enemy, then it does not belong in the present century."
In his writing and in his speeches, Joshua Goldstein ties together complex global issues and distills lessons critical to anyone operating in the shifting reality of international peace and conflict. Despite all the hand-wringing and bad-news headlines, he contends that global armed conflict is on the decline and that peacekeeping actually works in his latest book Winning the
War on War: The Decline of Armed Conflict Worldwide.
In the case of US-Chinese relations, Goldstein hopes that cooler heads and broader views on foreign policy will help prevent any conflict — even a 'cold' one — between the world's two greatest powers.