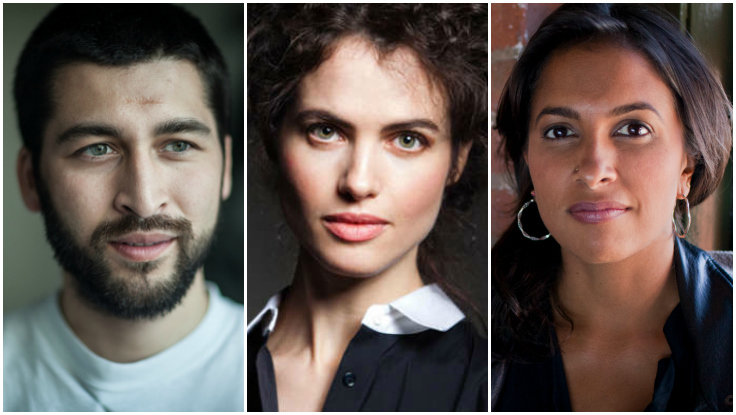 Environment
| June 24, 2016
It's Easy Being Green: Lavin Speakers Talk Technology and Sustainability
Melting ice caps. Rising sea levels. Steadily mounting temperatures. The fallout from industrialization has been significant, and climate change is here. But is there still time to change our fate? A new generation of thinkers—of entrepreneurs, innovators, and inventors—are changing the way we look at green technology. It's not a concession: it's untapped economic opportunity, ready for the taking. These
environment speakers
see a bright, sustainable future—where ecological stability and flourishing industry go hand in hand.
Cesar Harada
is a daring young entrepreneur with a revolutionary idea: a robot that cleans up oil spills. But Harada's technology is so much more than that. Inspired by the BP oil disaster in the Gulf of Mexico, Protei—an unmanned, self-righting, oil absorbent watercraft—is now being repurposed for all manner of tasks. Measuring radioactivity and plastic debris, monitoring fisheries and coral reefs, taking oceanographic data, serving as a satellite link to underwater vehicles—Protei's applications are boundless, much like Harada's inquisitive mind.
There's no labeling
Neri Oxman
. Israeli-born and MIT-based, Oxman fuses aspects of technology, biology, architecture, and engineering into a novel, hybrid discipline—what she calls "material ecology." Her creations, everyday objects ameliorated by adaptable, biological materials, are otherworldly yet surprisingly practical—amalgams of machine and organism that are transforming the way we look at innovation. Oxman's tomorrow is a sustainable one, where technology and nature complement one another beautifully.
Not only are sustainable practices necessary, argues
Alex Steffen
, they're a competitive advantage for your business. Sustainable prosperity is real, and it's time to get in on the ground floor. In his talks, Steffen explains how the clean-energy future is a wide open market, a brand-new landscape in which forward-thinking companies and cities can grow and thrive. And in his new, successfully funded Kickstarter project "The Heroic Future," Steffen is producing a live documentary series that "reimagin[es] the world of tomorrow, in order to rebuild the world today."
Adam Briggle
is an environmental activist with a definite cause: anti-fracking. Hydraulic fracturing for natural gas is fraught with environmental and public health risks—ground and surface water contamination, air and noise pollution, earthquakes—and Briggle, a professor of philosophy at the University of North Texas, is adamant that it ends. Our ability to innovate has outstripped our capacity to think in the longterm, says Briggle, and green energy sourcing needs to supplant fracking and other harmful practices before it's too late.
In
Mitchell Joachim
's bold (but attainable) future, biology and architecture are one and the same. Joachim envisions an urban environment transformed: green residencies retrofitted with living, breathing cells, cars that network with city grids, entire habitable structures grown from live trees. The next revolution in tech is an environmental one, and it's coming faster than we think.
To eco-activist, filmmaker, and TED Fellow
Shalini Kantayya
, switching to clean energy presents a twin solution to both climate change and economic downtown. Solar power, which she explores in her new documentary
Catching the Sun
, is a rapidly expanding industry, and one capable of large-scale job creation. But moving beyond fossil-fuel dependency—a massive shift in industry and culture—is easier said than done. Kantayya's work poses a simple, yet pivotal question: can the United States build a clean energy economy?
UCLA climate scientist
Laurence C. Smith
is renowned the world over. He's a Guggenheim Fellow. He's conducted groundbreaking research on Greenland's melting ice sheet. His book
The World in 2050
has been translated in 14 languages. But more importantly, his insight into what the world will look like in the near future—should global trends in climate change, population demographics, and resource demand persist—is second to none. Smith "avoids both the temptations of fear and of unbridled optimism" (
The Globe and Mail
), foreseeing a warmed planet whose Northern regions will take on greater strategic and economic importance in the coming years.
The Lavin Agency's sustainability speakers envision a green future, undeterred by the setbacks of climate change and replete with economic prospects. To book a keynote from Cesar Harada, Neri Oxman, Alex Steffen, Adam Briggle, Mitchell Joachim, Shalini Kantayya, or Laurence C. Smith, contact us today
.