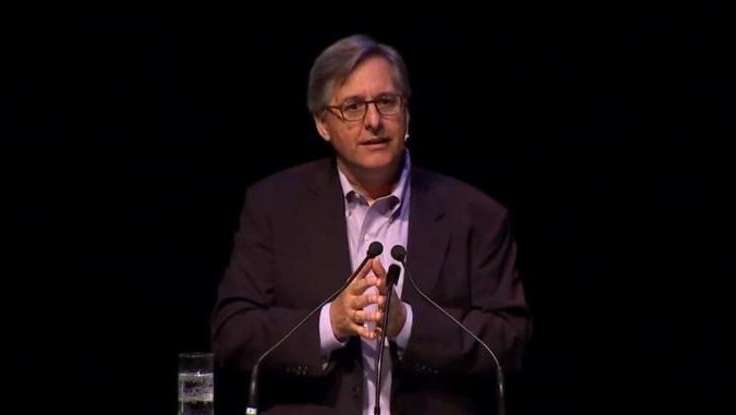 Innovation
| October 29, 2012
How Apple Turned It Around: An Insightful Keynote From Dan Lyons [VIDEO]
If you've ever wanted to ask Steve Jobs something, your best bet might just be to ask
Daniel Lyons
. As the hilarious and insightful writer of
The Secret Diary of Steve Jobs
blog, Lyons has a deep knowledge of the late Apple CEO's life. So much so, in fact, that he has been lovingly referred to as the "Fake Steve Jobs." In this
keynote
(which can also be viewed in the video above), Lyons uses his trademark quick wit to give an informed synopsis of the early days at Apple. Jobs had little to no knowledge about computers at Apple's outset, Lyons says affectionately, adding that it was Jobs' lack of experience in the computer industry that makes his rise to fame so impressive.
Steve Jobs wasn't a computer whiz capable of writing code or making circuit boards (this was
Steve Wozniak's
area of expertise), but he was so charismatic that people believed in him nonetheless. Even after being kicked out of his own company by the board of directors, Jobs didn't let it break his stride. In Jobs' absence, Lyons says, Apple was flailing. When he was asked to return, he first demanded that the company replace their board of directors, and then promised to turn Apple around. Even though the task seemed daunting and near impossible, Jobs said he had a plan and invited anyone who didn't believe in him to leave, while also promising that those who stayed wouldn't regret it. It's safe to say, based on the massive success that Apple has seen, that there aren't many regrets for those who stayed.
Spending over 25 years as a tech journalist, it's no surprise that Lyons would choose to so passionately bring Jobs' success story to life on the stage. Currently, he works as the Editor-in-Chief at
ReadWrite
, one of the world's top tech blogs. He has worked for
Forbes
and
Newsweek
, written fiction, non-fiction, and screenplays for television, and has appeared on numerous major news networks. His humorous and fast-paced style breaks down the sometimes overwhelming world of the tech industry, and provide concrete lessons that any business—regardless of industry—can use to improve their bottom line.