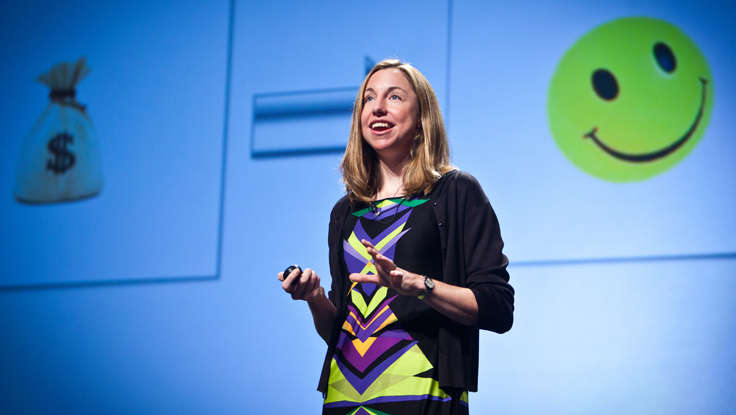 Happy Money
| July 09, 2012
How Can Money Make You Happier? Spend It on Others: Elizabeth Dunn
Do you need more money to be happier?
Dr. Elizabeth Dunn
—co-author of
Happy Money: The Science of Smarter Spending
—says, no! This weekend,
The New York Times
ran a Sunday Review story, co-authored by Dunn, which has quickly gone viral, based on its counterintuitive conclusions: "Interestingly, and usefully," Dunn writes, "it turns out that what we do with our money plays a far more important role than how much money we make." Overindulging is dangerous, she warns, as is expecting happiness to increase in tandem with income. Here's more from Dunn, who makes a strong case for under-indulging, buying experiences rather than things, and spending more on others than on yourself:
Imagine three people each win $1 million in the lottery. Suppose one person attempts to buy every single thing he has ever wanted; one puts it all in the bank and uses the money only sparingly, for special occasions; and one gives it all to charity. At the end of the year, they all would report an additional $1 million of income. Many of us would follow the first person's strategy, but the latter two winners are likely to get the bigger happiness bang for their buck.

These typical spending tendencies — buying more, and buying for ourselves — are ineffective at turning money into happiness. A decade of research has demonstrated that if you insist on spending money on yourself, you should shift from buying stuff (TVs and cars) to experiences (trips and special evenings out). Our own recent research shows that in addition to buying more experiences, you're better served in many cases by simply buying less — and buying for others.


In fun and practical talks, Dr. Elizabeth Dunn expands her happiness and money talks to include applicable nuggets for companies to reconsider their relationship with both their employees and their customers. Elizabeth Dunn's, Happy Money: The Science of Smarter Spending will be released in 2013—and it'll be worth every penny!