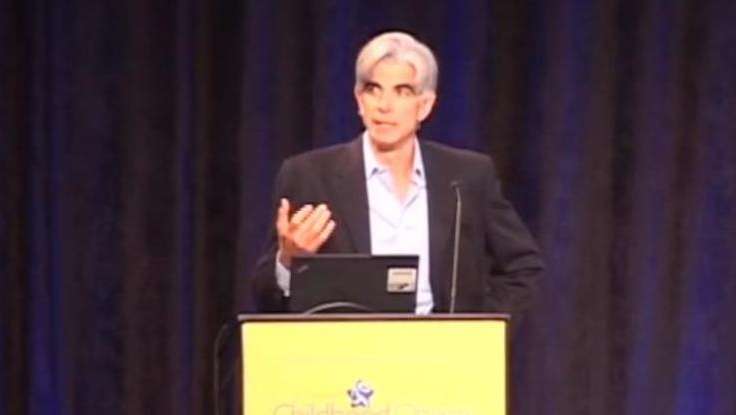 Health
| August 09, 2013
Fast Food's Not Addictive—It's "Craveable": Michael Moss On Insider Lingo
How often have you purchased a certain food because you just couldn't shake the "craving" you felt for it?
Health speaker
Michael Moss
says that insatiable desire you get is no fluke. The food industry has actually engineered their products to incite that feeling of "needing to have it." They even have a name for it: Craveability. "I became incredibly enamored by the lingo that the processed food industry uses," Moss says in
this keynote presentation
. "There's no word that they hate more than the "A" word—addiction—but I have to say that the words that they use to describe the allure of their products is every bit as revealing."
Technomic Inc., a foodservice consulting and research firm,
recently surveyed consumers
on which items they felt were the most "craveable." They found that
a high level of craveability
in products was "essential in the forging of an emotional connection with the customer as well as establishing a reputation." They also determined that food cravings were a driving force behind the decision to eat out in
83 percent of their respondants
. Many companies pride themselves on having craveable items available for purchase. A chief executive at one restaurant chain
said
: "These new products reflect our continued focus on improving the quality and craveability of all the products we offer." Some companies also promoted their rankings on the consumer craveability survey.
Words like "moreishness," "bliss point," and "snackability" are also popular terms in the industry. A less appetizing processed food term is "warmed-over flavor, or WOF,"
he tells The Toronto Star
.
"A food scientist described it as the taste of wet dog hair.". What's the solution to masking the funky taste found in some processed food? Add more salt. "It's an inexpensive way to provide flavor, in place of more expensive herbs and spices," the author explains. "And it can mask the bad flavor that creeps into processed food, especially reheated meat." It seems, Moss argues, that the food companies are as dependent on salt, sugar, and fat as the consumer is. "They know when they hit the perfect amounts [of salt, sugar, and fat] they'll send us over the moon," he says
in a media appearance
, "the products will fly off the shelves, we'll buy more, eat more, and they, being companies, will make more money." While we all have our cravings, Moss urges us to be more cognizant of what we're eating. That way, the next time the craving for a bag of potato chips strikes, you'll be more likely to abstain from eating the whole bag, or, you'll choose to reach for a healthier alternative, instead.
Michael Moss is the #1
NYT
bestselling author of
Salt Sugar Fat: How The Food Giants Hooked Us
. He is currently a reporter for
The New York Times
and his book was recently featured on the cover of
The New York Times Magazine
. In his keynotes (check out a clip of his recent event speech, embedded above) he provides compelling evidence on how our food is made, and, how we can make more informed decisions about what we eat. To get a speaker like Michael Moss for you next corporate or private event, contact The Lavin Agency.