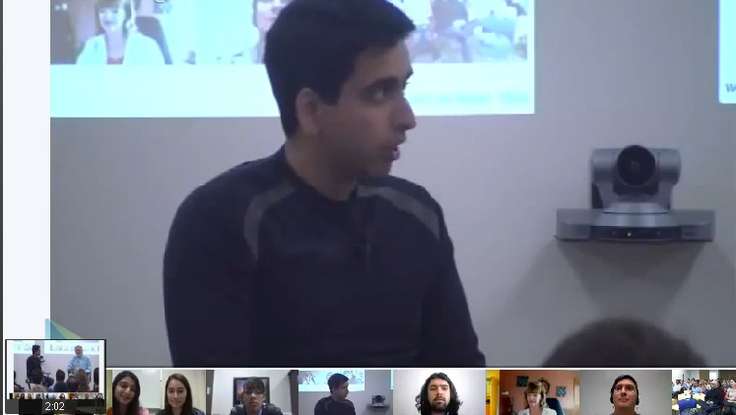 Education
| November 02, 2012
Going Digital: A Google Plus Hangout With Education Speaker Salman Khan [VIDEO]
Considering education speaker
Salman Khan
made a name for himself using digital technology and video, it seems only fitting that he would participate in a
Google Hangout
(a live video chat, run through social media site Google+) on the future of education. The video discussion focused on his newest book,
The One World Schoolhouse: Education Reimagined
, and what Khan sees as the future for education. In the hour-long discussion, people from across the world asked Khan questions about his book, his revolutionary digital classroom
The Khan Academy
, and his takes on educational reform. His discussion spanned from the origins of the Prussian education style to how he is trying to overhaul that system today.
As Khan explains, the Prussian system is what we follow in traditional school settings. It includes having set ages for each grade, a set curriculum for each grade, set hours for class time and national testing for all students. When it first came to pass, Khan explains, the model made sense as there was no other effective way to transfer information from one person to a group of people. However, the schools of the future, he says, will abandon those traditional tactics. Classes won't consist of 8 hours of straight lectures; classes will include collaborative, creative group work; there will differentiated instruction; you will learn at your own pace; and, there will be no more missed school days (as you can access your classroom digitally from anywhere).
Judging by the popularity of Khan's video teaching series, his proposals resonate loudly with the public. He has now created over 3,000 videos in his signature, "self-pacing" style of learning, and his site gets over 4.2 million unique students per month. What started as a way to help his family learn new concepts has now turned into a full time job that helps people from all over the world learn new things. In his speeches, Khan explores the work he has done with the academy, how far the education system has come, and how far it still has to go.