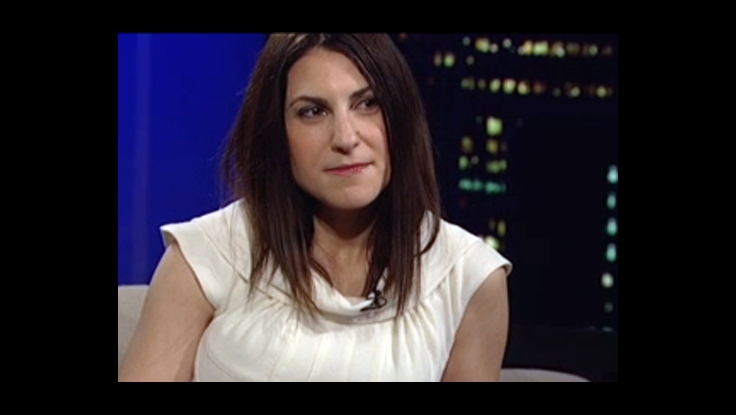 Foreign Policy
| April 19, 2011
Gayle Lemmon: The Unsung Heroes of Emerging Markets? Women
The Dressmaker of Khair Khana
— about an ingenious young Afghan who supported her community while under Taliban rule — took its author,
Gayle Tzemach Lemmon
, many years and many trips to Afghanistan to complete. Lemmon's efforts to "tell this story of unsung heroines and unlikely entrepreneurs" has paid off in spades. Receiving near universal acclaim, instant
New York Times
bestseller status, and praise from Angelina Jolie ("This book is guaranteed to move you"),
Dressmaker
is the culmination — thus far — of Lemmon's work in illuminating the cause of female empowerment in the developing world.
A former ABC News journalist, Lemmon is a Fellow and Deputy Director of the Women and Foreign Policy Program at the Council on Foreign Relations. We recently asked her, via email, to tell us about the origins of this fascinating book. "We rarely think about Afghanistan and women entrepreneurs in the same sentence, let alone women entrepreneurs under the Taliban," she writes. "And that is why I wanted to tell this story of unsung heroines and unlikely entrepreneurs." Below is the full text of Gayle Tzemach Lemmon's note to Lavin:
In December 2005 I traveled to Afghanistan to write about women entrepreneurs in war zones, the women who pull families through conflict and never receive credit for it. Stories of war focus on the men who go off with guns, not the women who stay behind and keep families together. I wanted to change that. I met Kamila Sidiqi, a young woman who had just launched her own company teaching business basics to men and women all around the country. She spoke eloquently to me about business plans and marketing and why entrepreneurship was the key to Afghanistan's future. When I asked her how she knew all this despite the fact that she was not even 30, she told me she had learned about business under the Taliban when she had started a dressmaking operation which created hope and jobs for hundreds of women in her neighborhood. I was shocked. Like most other people I had thought women lived under virtual house arrest during the Taliban.

But what I found in the five years reporting this story was that not only had women worked but they became breadwinners during years in which they weren't even supposed to be on the streets. Kamila was one such young woman. She was a teacher who was supposed to be a professor. But when the Taliban came life changed overnight. Every evening new rules came from the Taliban… In an instant women like you and me who had been out in the world studying and working were sent home and shut in, left with no place to go and no plans for the future. And yet they still had family who counted on them to provide. When Kamila's father and brother were forced to flee Kabul because of security risks, Kamila was left with five brothers and sisters to support. And no chance to become the professor she dreamed of because of the Taliban's rules. So she did the one thing she still could: she became an entrepreneur.

She learned to sew from her older sister and started a dressmaking venture which created jobs and hope for women all around her neighborhood. What started with one blue party dress sold to a local shopkeeper turned into a network of contracts from store owners throughout the city. And Kamila's house became not just a makeshift factory, but also a desperately needed safe haven for girls who otherwise had no place to go. Girls who came to Kamila's house found work AND community. They sat together and laughed and played music while they worked for hours on end to earn money for their families. Sometimes they even talked about Leo DiCaprio and the Titanic—the one cultural phenomenon the Taliban couldn't stop! Other times they talked about their problems and their desperation at being shut indoors and deprived of their education. Always they focused on the work they needed to do for the sake of their families. And they had help from their fathers and brothers and husbands.

Kamila's younger brother learned to embroider and became her chaperone, the young man without whom she could not be out in public. Together they navigated in and around the Taliban's rules. And that is what women did the entire time. They constantly fought to find openings and to create opportunity from the small spaces they could find. And they did it because people were counting on them. Kamila was not the only one—in the process of bringing this story to readers I met women who sold milk from the back of their house, women who worked as doctors, and girls who taught Microsoft Office in women's hospitals because that was one of the only safe spaces where women could still meet.

We rarely think about Afghanistan and women entrepreneurs in the same sentence, let alone women entrepreneurs under the Taliban. And that is why I wanted to tell this story of unsung heroines and unlikely entrepreneurs. We are so used to seeing women as victims to be pitied rather than survivors to be respected and invested in. The Dressmaker is a universal story of war, women, family and the risks we take for those we love. And it is about the power of determination to help us create hope out of desperation. I hope you will enjoy this book and I hope you will join me in changing the conversation and changing the world.


Read more about keynote speaker Gayle Tzemach Lemmon