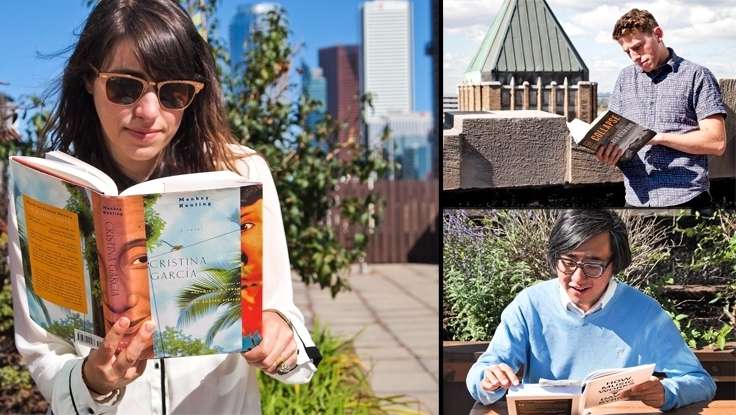 AT LAVIN
| September 28, 2012
Friday Reads: A Speakers Bureau That Reads Together, Stays Together
One of the questions we ask during job interviews is "What are you reading?" (Another one is: "Who do you think is underrated?"). Reading, as you might guess, is pretty important to us here at the Lavin
speakers bureau
. With that in mind, we're going to start sharing a #FridayReads of our staff about every month or so. Who's reading what, and why. This month, the list runs the gamut from presidential biographies to books on dogs, "beautiful souls," music, habits, and crime. Also: a book by "one of the best investigative journalists on the planet," and not one but
two
Zadie Smiths made the list!
David Lavin, President & CEO
I'm reading Robert Caro's latest entry in his Lyndon B. Johnson biography series. It's incredibly interesting. Caro could use a good editor, but Johnson leaps off the page as a political genius who was as much misunderstood as he was feared.
Charles Yao, Director of Speakers
I'm a big David Byrne fan, so I picked up his accurately-titled new book,
How Music Works
. Byrne's great at explaining how the medium, venue, and technology used in creating music end up shaping it. There are great personal stories and a lot of practical sausage factory-type stuff about creativity. Appropriate times to read the book include: when you find yourself living in a shotgun shack. Inappropriate times: behind the wheel of a large automobile.
Gord Mazur, Executive Vice President
500 Days
by
Kurt Eichenwald
. Always happy to read anything by Kurt—the best investigative journalist on the planet. I love an author who can make non-fiction pure fun! Also:
How Children Succeed
by
Paul Tough
. I think this book is about me. I'm usually the least formally educated guy in the room, but I'm in the room. Why?
Tanya Svidler, Agent
I am reading
On Beauty
by Zadie Smith, for the sheer pleasure of reading a good novel!
Guy Halpern, Business Development Agent
I'm just finishing
Cat's Cradle
by Kurt Vonnegut. It is funny and strange, and dovetails well with
Of Pure and Radiant Heart
by Lydia Millet, another weird satirical story about the fathers of the atom bomb. But I read that last year so it doesn't count. Aside from that I am dipping in and out of a book of essays by Zadie Smith,
Changing My Mind,
mainly because she's a really good writer. Also:
Jared Diamond
's
Collapse.
Joy Kim, Administrative Coordinator
A Dog's Purpose
by W. Bruce Cameron. I love dogs!
Sarah Moore, Marketing Writer
Empty Cradle
by Diana Walsh. Call me a shameless promoter for reading a book written by one of my good friend's mothers, but the story is one that truly haunts me—because it's true. Diana's newborn daughter was abducted from a local hospital, by a desperate woman disguised as a nurse. It seems so unfathomable to me that something so horrifying could happen in my small, seemingly safe town—to someone I knew. While it is admittedly more shocking to me, given that I know the people in question, the criminal's background story (and the way Diana weaves it into her own) is equally as chilling to those removed from the characters.
Tom Gagnon, Vice President
Right now I'm reading
Beautiful Souls
by Eyal Press. It's an amazing book that tells the stories of people who, when put in extraordinary circumstances, have gone against authority and convention to do what they believed to be morally just.
Nikki Barrett, Vice President
Charles Duhigg's
The Power of Habit
. I'm fascinated by neuroscience and its broad array of applications—personal and professional. Also:
Salman Rushdie
's
Haroun and the Sea of Stories
. I'm reading it to Max (who's 3 and a half) but it's more for me than him!
Hayley Citron, Marketing Coordinator
I'm reading Cristina Garcia's
Monkey Hunting
, which tells the story of Chinese slavery in Cuba in the 1800s and the deep struggle toward belonging shared by displaced people across the world. I'm also reading
John Elder Robison
's
Look Me in the Eye: My Life with Asperger's
because I think it's extremely important that we try to understand what individuals with Autism go through on a daily basis.
Colin Withers, Senior Marketing Coordinator
I'm reading
Blood Meridian
by Cormac McCarthy. I'm a big Americana junkie and I loved
The Road,
so it seemed like a natural fit.
Cian Cruise, Sales and Marketing Assistant:
Culture and Value
by Ludwig Wittgenstein. The book is the unofficial accompanying notes to his philosophy—like the raw stuff that he left on the cutting room floor but which his literary executors felt was worth sharing. Could be considered similar to George Christoph Lichtenberg's
Waste Books
, which is actually a great lens into W.'s philosophical process. Also:
Mysteries,
by Knut Hamsun is perhaps the most frictionless prose I have ever encountered. Cited as an inspiration by Ernest Hemingway, James Joyce, Franz Kafka, and Henry Miller, Hamsun (and his contemporary Henrik Ibsen) were part of the Scandanavian literary circle known for pioneering psychological techniques such as stream of consciousness and interior monologue.
Katie Thomson, Events Coordinator
I recently read
The Dressmaker of Khair Khana
by
Gayle Tzemach Lemmon
. I didn't know what to expect when I picked it up, and while reading it, I was totally amazed at the risks the women took to support their families while simultaneously helping one another to better educate themselves—all so that they and their family members could have a better life. Women are willing to take much bigger risks than men: they are strong, all the while keeping that maternal flame alive with in the family.
Robert Abrams, Agent
I am reading
Drive
by Dan Pink—I'd never read any of his stuff before. It's a good read so far! I'm also reading Kurt Eichenwald's new book,
500 Days
, a tome on how the decisions made 500 days after 9/11 permanently changed the US. This book sucks you in; I like that it's told observationally, from a distance, allowing us to make our own conclusions.
Sally Itterly, Vice President
Reading
The Finest Hours
by Michael J. Touqias and Casey Sherman—the true story of the Chatham US Coast Guard's 1952 amazing rescue of the USS Pendleton during one of the most brutal nor-easters of the time. The USS Pendleton was a ship made with "dirty steel" during the war effort. The dirty steel gave way and the USS Pendleton was torn in half by the seas of the nor'easter. Why am I reading it? It's the true story of character and bravery against the power of nature. It doesn't get any better.
Meghan Pritchard, Agent
The Paris Wife
by Paula McLain and
A Moveable Feast
by Ernest Hemingway. I tend to gravitate to anything based in a historical setting. And at the moment, I am a little obsessed with anything to do with Paris in the 1920s.
Meghan Elenbaas, Agent
I'm reading
Beautiful Ruinsby
Jess Walter. A good portion of it takes place on an island off the Italian coastline in 1962 and weaves together fiction with the true account of filming
Cleopatra
. But it also tackles complicated relationships and Hollywood today. I was just in Rome, so I thought it would remind me of my vacation.
Joan Hogan, Receptionist
I am currently reading
The Scoop
by Fern Michaels. A bit of fluff, but good nonetheless. The previous book I read was
The Dressmaker of Khair Khana
by Gayle Lemmon—such an inspirational book. Hearing about people overcoming adversity and the risks they have to take to succeed is empowering.
Jessica Dolman, Events Coordinator
I'm reading Lawrence Hill's
The Book of Negroes
. It was recommended to me by a friend whose book choices I trust. I'm also reading
Small Island
by Andrea Levy. It caught my eye on a shelf when I was back in the UK.
Octavia Ridout, Events Coordinator
Ghostwritten
by David Mitchell. Because my husband bought it for me a few years ago so I figured I should finally get to reading it—especially now, since one of his other books is a movie. I'd like to read
Cloud Atlas
before I see the flick, but that's much too lofty a goal methinks! Also:
Sei-Ki: Life in Resonance: The Secret Art of Shiatsu
by Akinobu Kishi and Alice Whieldon. Because I'm also a shiatsu therapist, so I like to keep on top of what's happening in my "other" field.
Julia Martyn, Events Coordinator
Chris Abani
's
Song for Night
. I work with Chris a lot and I think he's wonderful.
Mackenzie Gruer, Events Coordinator
I am reading
Something Fierce: Memoirs of a Revolutionary Daughter
by Carmen Aguirre (winner of Canada Reads 2012) as research for a feature-length doc I am currently directing. The film is about Chilean women who defied a bloody dictatorship with hand-sewn tapestries, and how they are teaching a new generation of women in Canada how to make similar revolutionary political art.
Stevie Asselstine, Events Coordinator
I'm reading
I Know This Much is True
by Wally Lamb. I've been meaning to read it for a long time—it was recommended repeatedly by friends!
Faye Nwafor, Agent
I'm reading
The Dangers of Proximal Alphabets
by Kathleen Alcott. It's an emotionally honest and enchanting exploration of the love, pain, and wonder of unconventional family dynamics. It's also a love story by a wickedly cerebral author with a knack for nostalgia. Picked it up after hearing her speak in person.
Lauren Bergstrom, Agent
I'm reading
Lord of the Rings: Fellowship of the Ring.
I've never actually read the series before, and it makes for good cozy fall reading.
Holly Caracappa, Agent
Having something akin to literary commitment issues, I prefer to read 8-10 books at once. Not a show off—just like to fancy my books as suitors vying for my attention: may the most fetching one win my (momentary) affections. Reading:
And it Came to Pass—Not to Stay
, by Buckminster Fuller: because Mr. Fuller is a cosmic rider, who like my (aspiring) self, is about the whole, the global, and the transcendental. Who better to speak of love than him? Also reading:
6 Non-Lectures
by ee cummings. Because cummings is my poetic father and his word poetic gospel.
Karin Roest, Agent
I'm swamped with reading for grad school, but picked up
Dr. Samantha Nutt
's
Damned Nations
because she stopped by our office last week. It's one I've wanted to read for a long time anyways. I'm partially in tears and in awe at her candidness and bravery which changed to laughter when she stopped by because she's so naturally funny!
Kenneth Calway, Managing Director of Contracts
I'm reading
Blink
by Malcolm Gladwell, and
The Corrections
by Jonathan Franzen.