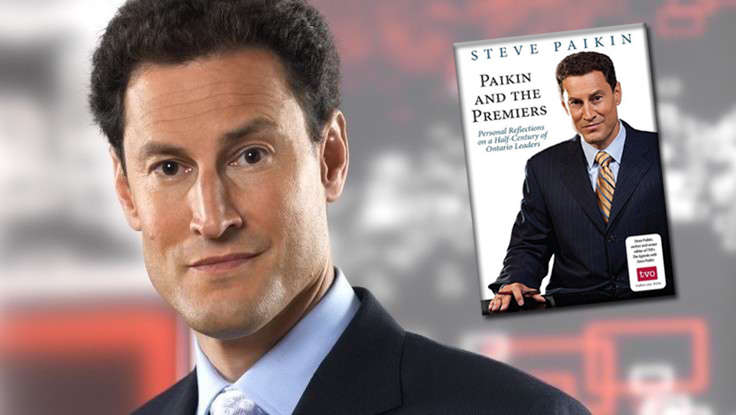 Politics
| September 20, 2013
First Look: Paikin and the Premiers by Politics Speaker Steve Paikin
As the anchor and senior editor of The Agenda on TVO, politics speaker
Steve Paikin
has moderated leaders' debates for three federal and two provincial elections, has written four books, and has created several documentaries. Whether in front of the camera or a live audience, Paikin always brings his intelligent analysis to top, headlining stories—be them local, national, or international. In his new book,
Paikin and the Premiers: Personal Reflections on a Half Century of Ontario Leaders
, he draws from that experience to chronicle the lives of the leaders that shaped the political landscape. The book is due out this month.
Here's the publisher's description of the book, as featured in
News Wire:

With more than 30 years in the business, Steve Paikin has built a sterling reputation as an accessible journalist; few people know the modern-era premiers of Canada's most populous province the way he does. Based on TVO's rich archive of interviews with Ontario's premiers, Paikin and the Premiers offers a rare perspective on Kathleen Wynne, Dalton McGuinty, Ernie Eves, Mike Harris, Bob Rae, David Peterson, Frank Miller, Bill Davis, and John Robarts—from the vantage point of one of Canada's most astute and respected journalists. A chronological presentation of interviews, beginning with Robarts (1961-1971) through to Wynne (2013) the book offers intimate insight from the author's voice, juxtaposed with detailed transcripts of individual interviews with the premiers. Through his signature curious and conversational style, Paikin explores both the personal and professional lives of the interviewees, providing a compelling narrative about their careers in politics.
In his keynotes, Paikin discusses national and provincial politics, offers illuminating insight into the life and work of former Ontario Premier John Robarts—as well as the personal lives of other politicians. With energy and wit, Paikin provides a refreshing look at where our politics have taken us, and where we're headed. While an expert in Canadian politics, Paikin is a respected journalists whose insights on politics and leadership are applicable to audiences outside of the country, as well. To book Steve Paikin (known as the go-to guy for tackling current-events topics in-depth) contact The Lavin Agency.