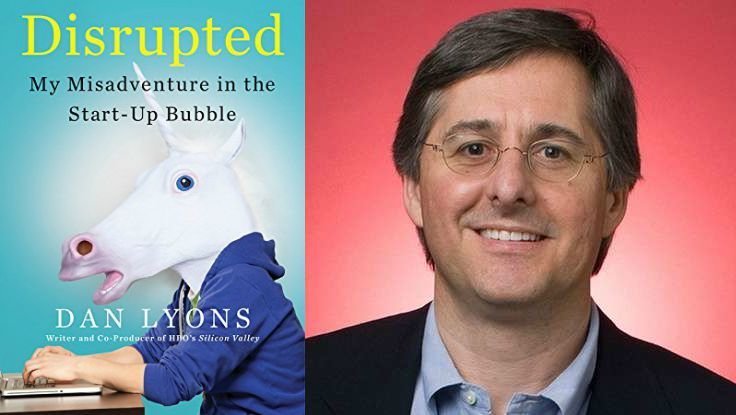 Exclusives
| September 09, 2015
First Look: Dan Lyons' Memoir, Disrupted: My Misadventure in the Start-Up Bubble
Dan Lyons
'
fourth book—and first memoir—is called
Disrupted: My Misadventure in the Start-Up Bubble
, and it's coming out with Hachette Books this April, 2016.
With an insider's take on consumer tech, Silicon Valley, and pop culture, Lyons has assembled an eclectic and impressive career. Not only is he writer and co-producer of the HBO series
Silicon Valley
, but he's the author of works of lauded literary fiction and the wildly popular parody/memoir,
The Secret Diary of Steve Jobs
. However, he wasn't always in a place of relative security; as his new memoir describes, after 25 years, his job as a leading tech journalist for
Newsweek
suddenly disappeared, compelling him to join up with a tech company awash in "fad-chasing venture capitalists" and "brogrammers."
Here's the full description from Hachette:
For 25 years Dan Lyons was a leading tech journalist—until the Friday his Newsweek boss called. His job? Gone. Fifty years old with two young kids, Lyons was, in a word, screwed. Then an idea hit. For years he'd seen people strike gold in the start-up boom. Why not him? One tech company, flush with $100 million, offered a pile of stock options. What could go wrong?

His new employer made the world a better place … by selling email spam. The office vibe was frat house meets cult compound: Shower pods became hook-up dens; Nerf gun fights broke out at lunch; and absent bosses specialized in cryptic, jargon-filled emails. In the middle of this sat Lyons, old enough to be his coworkers' father.

With portraits of devilish angel investors, fad-chasing venture capitalists, entrepreneurs and wantrapreneurs, bloggers and brogrammers, Disrupted is a hilarious story of self-reinvention and a definitive account of life in the tech bubble.
In his entertaining (and frequently hilarious) talks, Lyons uses Silicon Valley successes (and failures) to explain how to win—and fail—at business. His keynotes are just as sharp as his writing—and he uses humor, wit, and his extensive experience as a journalist and television writer to explain how to collaborate creatively and achieve lasting success.
To book keynote speaker Dan Lyons for your next event, contact The Lavin Agency speakers bureau.