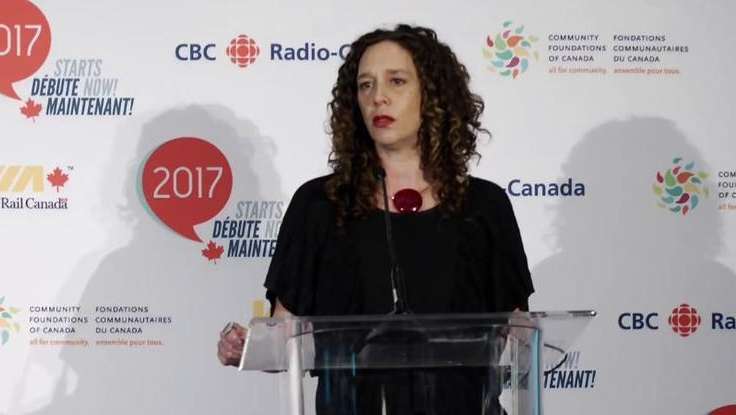 Environment
| April 15, 2013
2017 Starts Now: Tzeporah Berman On The Future Of Clean Energy [VIDEO]
"I want to be sitting with my grandchildren, and I want to be telling them about this crazy time in our history when we clawed at the Earth to get at the last of the oil," says environment speaker
Tzeporah Berman
. "A crazy time in history when we used to fill our cars with gas—and they're not going to believe me because this county will be such a different place." At the
CBC's 2017 Starts Now Conference
, Berman addressed the state of the nation—and why we need to start making changes now if we hope to create a greener, more sustainable future. There's no longer any excuse, she argues, to not be harnessing clean energy. And the countries making the switch from fossil fuel based power to clean energy are not only profiting environmentally—but economically as well.
China, for example, are manufacturing wind turbines every hour. In Spain, they have constructed a concentrated solar plant that effectively powers 250,000 homes per day. And, as she tells the audience, "last year was the first year in human history that the new investment in solar, in wind, in renewables globally—new electricity investment—exceeded the investment of oil, coal, [and] nuclear, combined." Despite seeming like an insurmountable challenge, it is possible to reduce, and even eliminate, our dependance on fossil fuels. The first step to making that happen is to engage with your political leaders. "Our governments react when they know that people care about these issues," Berman explains. And if the nation demands a cleaner future—the government will have no choice but to step up.
Berman is a leading voice for the clean energy movement. The author of
This Crazy Time: Living Our Environmental Challenge
, she provides groundbreaking research and consulting to companies and government agencies who want to pursue a more environmentally friendly future. Recently, she has focused her energies on policy regarding the oil sands and the Keystone pipeline debate. In this keynote, and others like it, Berman presents a compelling case for the shift away from fossil fuels and into a more sustainable energy system. Applicable both on the personal and corporate level, Berman provides practical advice on how you can lead your organization to a greener future.