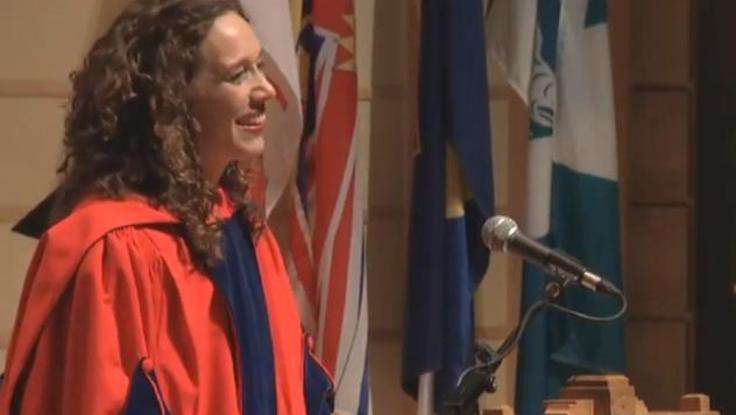 College
| June 21, 2013
It's Our Duty As Citizens To Chart A New Course For The Future: Tzeporah Berman
Tzeporah Berman
delivered a hard-hitting message to a group of graduates in her
recent commencement speech
. The environment speaker told University of British Columbia students that they hold the "keys to the future of our civilization." In a powerful and topical keynote, Berman encouraged the audience to stand up and help make the changes our nation desperately needs. "Social change isn't easy and there will always be those who are vested in maintaining the status quo," she says, "[but] it's our duty as citizens to look forward and chart a course for the greater good."
She explains that these new grads are living in a generational tipping point. Not only are they living in a time where massive changes are taking place, but they also have the capacity to re-envision the future. "We have the technology to do it right," she says of our ability to embrace renewable energy. All we need, she adds, is the will of the people to do so. "Your generation has the knowledge now, the creativity, the technology, the capacity to hold our government accountable to make sure that we are building a country that leads in the development of a low-carbon economy," she says. "A country that we can be proud of."
UBC professors
described Berman's speech
as a "barn burner" with "just the right amount of kick in the pants." When she received her honorary Doctorate of Laws, the president of the university introduced her as "strategic, articulate and balanced...and equally effective in the boardroom as on the front lines of peaceful demonstration." Berman concludes her speech with an admission that the problems the world faces today can seem overwhelming. And while we don't know what the future of the climate era holds, we do know, she says, that the future is in our hands.