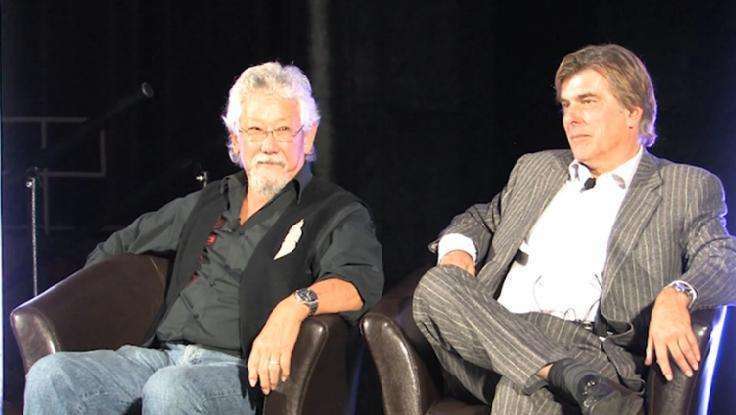 Environment
| March 01, 2013
Jeff Rubin & David Suzuki: Economics Changes The Environmental Game
"When you live in a finite world, you can't grow anything forever," environment speaker
David Suzuk
i tells
CBC radio.
That's a similar message to what economics speaker
Jeff Rubin
promotes, which is part of the reason why the two have joined forces on a
national Eco-Tour
to discuss sustainability and economic growth. As Rubin explains in the interview, despite their seemingly unusual partnership, he and Suzuki complement each other—and have more in common than most people think. "The message of our tour is [that] 'eco' is the common root in both economics and ecology, even if it's not a normal connection," he says. Where Suzuki is a reputable voice on the environmental impacts of our energy consumption, Rubin has the economic chops to back up the reasons why it makes sense money-wise to be more environmentally conscious.
The two disciplines are closely related, he adds. "If economic growth can't continue at the rates we're grown accustomed to," Rubin says, "then that's a game-changer as far as our environmental footprint is concerned." With oil prices skyrocketing and the cost to extract that oil becoming higher and higher, Rubin explains that it's not necessarily the environmentalists of the world who are going to keep oil in the ground—it's the economists. Why? Because "climate change is starting to affect our pocketbooks," he says. He points to the billions of dollars in damages caused by Superstorm Sandy and the billions being poured into drought relief for farmers in the Midwest as evidence that environmental concerns are starting to become an economic problem—and growth cannot continue the way it has under these conditions.
As the author of
Why Your World is About To Get a Whole Lot Smaller
, and
The End of Growth
, Rubin has been discussing the connection between economics and ecology for some time now. He is the former chief economist and strategist for CIBC World Markets and was also one of the first economists to openly discuss the global ramifications of rising oil prices. His lectures with Suzuki explore the rapidly changing world we live in today—and how numerous factors are going to push us in a greener direction in the future.