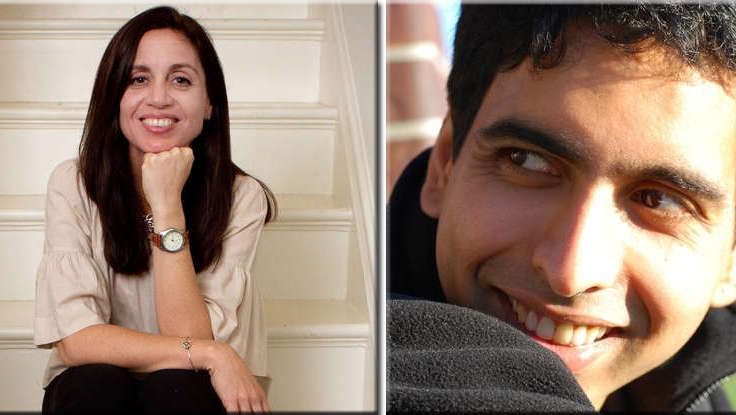 Education
| October 03, 2013
Education Reimagined: Ninive Calegari, Salman Khan In A New Lecture Series
Education speakers
Ninive Calegari
and
Salman Khan
are developing new models for learning with their innovative programs 826 Valencia and The Khan Academy. At a speaking event in Palo Alto recently (
an audio recording of the event is available
), the two innovative educators discussed how they are leveraging the power of community, interactivity, and out-of-the-box teaching methods to help kids not only succeed—but
thrive
. "This is a once in a millennium opportunity to take this thing known as education that has historically been scarce, historically been the key determinant between the haves and the have-nots, and at least start to address it in a more equitable way," Khan explains in the talk, "and, like clean drinking water or shelter, turn it into a fundamental human right."
Khan explained how his revolutionary video-based learning method and innovative software is helping students to truly master concepts. He wants to flip the traditional model: Instead of holding fixed how long a student has to learn a concept and the variable being how well they learn it, make the variable how long they have to learn and make fixed how well they learn it. Calegari, who has also done her fair share of breakthrough work to help foster deeper learning, praised his work. She said she laughed and, even cried, while reading Khan's book,
The One World School House
. A former school teacher herself, Calegari sees the benefit in implementing technology into the classroom. And, how new tools will provide teachers the opportunity to better engage with their students.
Khan says that fostering creativity in the classroom is also a crucial part of the future model of schools. You need to create an environment where collaboration between creative people is encouraged—something he says Calegari is doing an excellent job of in her projects. "One of my dreams for America," Calegari responds, "would be that every adult who has a passion would be doing that passion alongside a young person and solving problems together." By implementing the new strategies that the two speakers have in mind, the future of education could include a model that makes that dream a reality.
In Calegari's energizing talks, she opens a much-needed discussion about the role, the necessity, and the quiet daily heroism of our best volunteers, our teachers, our students, and what communities can do to build programs that help people succeed. Khan discusses his work with The Khan Academy and how we can "flip the classroom" to provide a world class education for all students. To book either of these education speakers for a keynote event, contact The Lavin Agency Speakers Bureau.