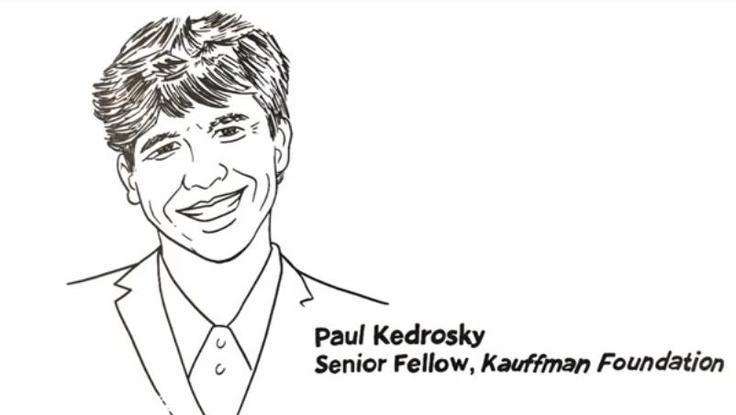 Economics
| April 02, 2013
Scratch Your Own Itch: Paul Kedrosky On Successful Entrepreneurs [VIDEO]
"One of my main driving ideas for entrepreneurs,"
economics speaker
Paul Kedrosky
says in new video from the
Kauffman Foundation
, "is that the best ones are the people who scratch their own itch." As the Infectious Greed editor explains, the most successful start ups were formed when people became "irritated at the world because the world wouldn't provide them something they needed and said: 'Oh, the hell with it. I'm going to have to go out and do it because nobody else will.'" As part of the Kauffman Sketchbook series (which
Sam Arbesman
has
also participated in
), Kedrosky narrates a live animation video about the defining characteristics that motivate the greatest entrepreneurs.
"They have a monomaniacal need to satisfy themselves, crossed with impatience, crossed with, you know, this [feeling that this] thing has to happen," he explains in the video. When you combine those three attributes, you get someone like Steve Jobs or Mark Zuckerberg—the inventors who are wildly passionate about their projects and need to complete them
right now,
and in their own, unique way. It is this "itchiness," Kedrosky says, that defines them. It is also the characteristic that gets them through the very difficult stages at the beginning of a new venture. He also notes that it is important to have all three pieces of the puzzle—monomania, impatience, and the drive to do something that no one else has done yet.
Kedrosky's speaks on all the different fields driving the economy: energy, tech and finance, venture capital, consumer behavior, and many more. The Editor of
Infectious Greed
(one of the most popular financial blogs in the world), he also is a regular contributor to
The New York Times, The Wall Street Journal
, ABC's
Nightline
and PBS's
NewsHour.
Armed with a sharp wit and an even sharper intellect, his keynotes are both entertaining and educational—laying out predictions on where the economy is headed, and how we can start preparing today.