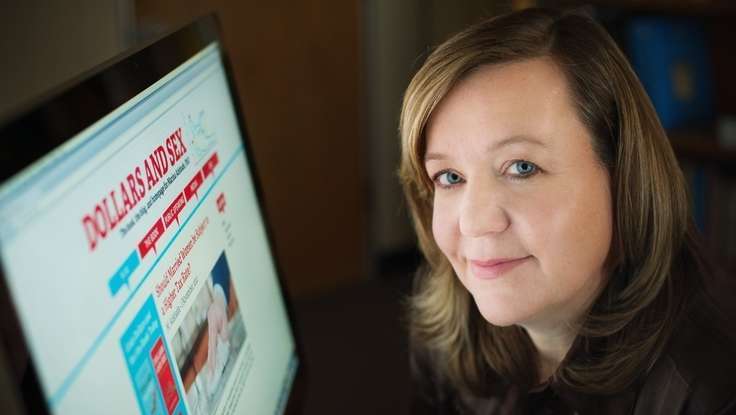 Economics
| May 17, 2013
Power Couples: Marina Adshade On The Way Money Impacts Relationships
"Just because I look at dating and marriage as a market doesn't mean that there's no passion and romance,"
economics speaker
Marina Adshade
tells
Bloomberg Businessweek
. "Then again, if that were the most important, we'd see much more randomized matching than we do. We see a lot of couples matching over education and income and other economic factors." Adshade is the author of the much talked about book
Dollars and Sex
:
How Economics Influences Sex and Love
. In the book, and her widely popular blog of the same name, Adshade argues that economic theory can help us make sense of complicated matters of the heart. And, that there's greater forces at play when it comes to choosing a mate than we realize. Income, for example, has a noticeable impact on who we choose to date/marry and how the relationship operates.
Whether we want to admit it or not, money really does buy power. "We see it all the time: The person who earns the most gets much greater say in how their relationship works," Adshade says. And, as gender roles blur and women become more economically independent, the traditional power structures are eroding. "Traditionally, economists have argued that because men have always earned more than woman, it made sense that men went into the workforce and women spent the majority of their time staying at home," Adshade notes. Today, however, more women hold degrees than in the past and, as such, are earning higher incomes. Thus, there are more households today where the woman has a greater pull in the decision-making process because she's making as much—if not more—than her husband. "I'm not suggesting the way people conduct their marriages is that every day you look at the other person and say, 'Do as I say or I'm leaving,'" Adshade is quick to point out. "That's not really true, but women's increased opportunities do give them more bargaining power in the house."
Another change in relationship dynamics that Adshade relates to market shifts is the fact that we're waiting longer to settle down. Since the market of available, desirable mates is much bigger than it once was (due in part to the explosion of online dating), people don't feel that they have to settle. "By opening up the market, online dating is making people pickier. People are setting higher standards," she says. "They're not settling as quickly as in the past, when they had smaller markets to draw from. Theoretically, that should lead to higher-quality relationships and marriages and to a decline in divorce." Adshade uses examples like these to teach her students at the Vancouver School of Economics at the University of British Columbia about basic economics. In her lectures for her popular Economics of Sex and Love class, the professor turns what is stereotypically seen as a dull discipline into a "sexy science." Applicable to people in a wide array of industries, Adshade's talks provide us with the tools to better understand human sexuality. You'll never look at Econ 101 the same way again.