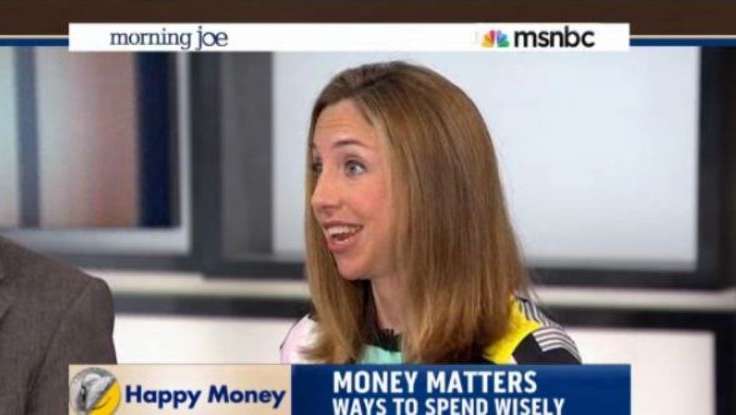 Economics
| August 19, 2013
Spend Money On Time-Changers, Not Time-Savers: Elizabeth Dunn In Wired
"What really matters for happiness is what we're actually doing with the minutes and hours of our day,"
economics speaker
Elizabeth Dunn
says on MSNBC's
Morning Joe
. "The best thing we can do with our money in my opinion is to change the way we use our time for the better." This is one of the tips that Dunn and co-author Michael Norton share in their book
Happy Money
. As the two authors tell us, it's better to use our hard-earned cash to improve the way we spend our time rather than on material things. What's more, we also have to ask ourselves whether the purchases we make are time-changers, or merely time-savers.
In the
August edition of Wired
, Dunn says we commonly assume that shelling out cash on time-saving technology will automatically make us happier and less stressed. "[However] the belief that additional leisure time will translate into less stress requires a critical assumption: that we use that additional time well," she explains. Thanks to new time-saving devices, we have about four extra hours of leisure time per week. However, Dunn reports that "we spend the same amount of time feeling grouchy as we did 40 years ago." That's because we put most of our focus into saving time, but not what we'll actually
do
with that time and whether we'll feel happier in those saved minutes or hours.
"What's worse," she adds, is that "products designed to save us time can actually make us feel more rushed." Fast food, for example, while convenient, often makes waiting even a few minutes for something seem like an eternity. "This sense of impatience then reinforces our desire for other time-saving products," Dunn argues. Instead of putting all of our energy into buying extra time, we should exert some of that energy into spending our saved time wisely. That, or think about purchasing technology that helps you enjoy your time instead of just saving it. Dunn says time-saving products bring you happiness most often when they eliminate a part of your day that you don't enjoy. Buying a robotic vacuum cleaner, for example, only makes you happier if vacuuming is truly the most dreaded part of your day. If you don't mind doing a little sweeping, it might be better to invest in a new e-reader or app to help you pass your time more productively. In closing, your money is best spent on things that make you happier—not just on things that give you more hours in the day.
Elizabeth Dunn presents widely applicable talks on achieving something we all seek: Happiness. Focused mainly on how we can improve our relationship with money, and, how we can use our income to lead a happier life, she shares tips from her book,
Happy Money
, in her talks.
Her subject matter is relevant both on the personal and professional level. To book Elizabeth Dunn as a keynote speaker at your next event, contact The Lavin Agency.