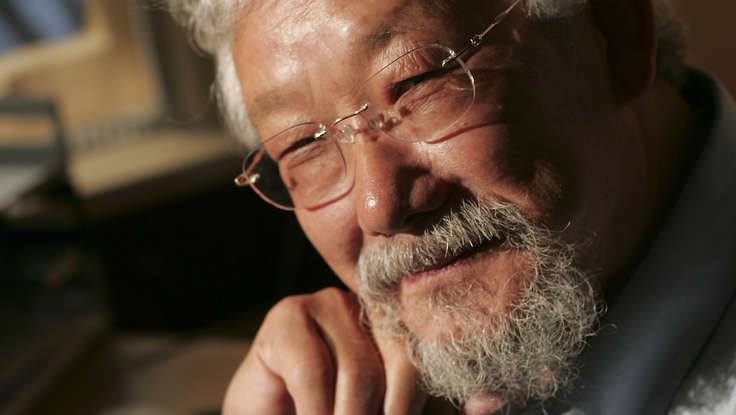 Environment
| December 14, 2012
David Suzuki: Protecting Our Planet Improves The Economy
"You can't grow anything forever,"
David Suzuki
says pointedly in a recent
keynote
at the Japan Renewable Energy Foundation. Drawing from material in his recent book,
The Legacy
, the environmental advocate focused much of his speech on how we arrived at this tipping point in our relationship with the natural environment—and what we need to do now in order to maintain the planet's limited resources for future generations. We as a society have become obsessed with measuring growth by the Gross Domestic Product, he says. The problem is that the resources which currently advance our GDP are not infinite and will eventually run out.
Because we have come so far as a society and have the ability to create so many things, we often forget that not everything can indefinitely advance and grow—such as the resources that we depend on for our fuel and power. We need to shift our perspectives on how we measure growth and advancement, he explains, and start to think of the environment and economy as being intertwined. It is this realization that spurred the partnership between Suzuki and economist
Jeff Rubin
. The duo recently embarked on a cross-country
lecture series
to explore the idea that we will no longer be able to sustain the environment or the economy if we don't see the two fields as being interconnected. As Suzuki says in his talk, "economics, [at its root definition] therefore, is the 'management of our domain.'" Therefore, the things that make up our home or domain—our natural resources—also make up our economy, and thus, we must protect them both in order to survive.
Both Suzuki and Rubin advocate for a shift toward more renewable and sustainable economies through the use of "green" initiatives. As energy costs rise (specifically oil, which Rubin says will hit the triple digits-per-barrel soon) we will be unable to avoid making these decisions any longer. In the talk, Suzuki touched on the arguments that he and Rubin made on their tour, saying that big changes must be made in order to save our planet and our economy.