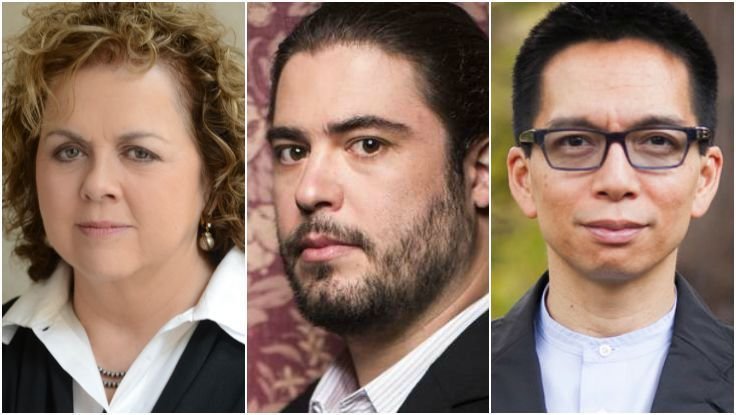 Exclusives
| September 08, 2015
Cultural Literacy 2016: Laurie Garrett, Christopher Soghoian, & John Maeda in Wired
Three of our keynote speakers are featured in "The New Cultural Literacy 2016" section of this month's
Wired magazine
.
Laurie Garrett
,
Christopher Soghoian
, and
John Maeda
are "core people … you absolutely must follow" in this "ultimate cheat sheet for the worlds of security and government, business, science, design, and culture" (
Wired
).
Pulitzer Prize-winner Laurie Garrett is one of our most trusted speakers on global health, prevention, and disease. And according to
Wired
, she's one of the key writers covering "the tale of how new diseases emerge and old ones come back." Author of
The Coming Plague
and
Betrayal of Trust
, a Senior Fellow for Global Health at the Council on Foreign Relations, and go-to expert on the Ebola crisis, Garrett "deftly lays out the latest research and discoveries" any science or health-based organization needs to know about.
In a post-Snowden landscape, the balance between privacy and security is ever more precarious. For
Wired
, this is why Christopher Soghoian is so vital—"he provides much-needed insight into surveillance and privacy-killing technologies. He also goads corporations and governments into fixing their security flaws." As the Principal Technologist at the American Civil Liberties Union and one of
MIT Technology Review
's top innovators under 35, Soghoian provides critical information on communication and privacy laws, encryption and hacking precedents, and timely surveillance issues for all groups rightfully mindful of security.
As an artist, graphic designer, computer scientist, and engineer who's worked to humanize technology, synthesizing creativity and innovation, John Maeda is a natural fit for
Wired
's look at people on the edge of "invisible design." According to the editors, "Maeda has a unique vantage point on the intersection of tech and design." As design partner at Kleiner Perkins Caufield & Byers, author of
The Laws of Simplicity
,
Creative Code
, and
Redesigning Leadership
, and catalyst behind STEM's transformation to STEAM, Maeda is an indispensible resource for all those seeking the latest insights in design and innovation.
To book keynote speakers Laurie Graham, Christopher Soghoian, or John Maeda for your next event, contact The Lavin Agency speakers bureau.