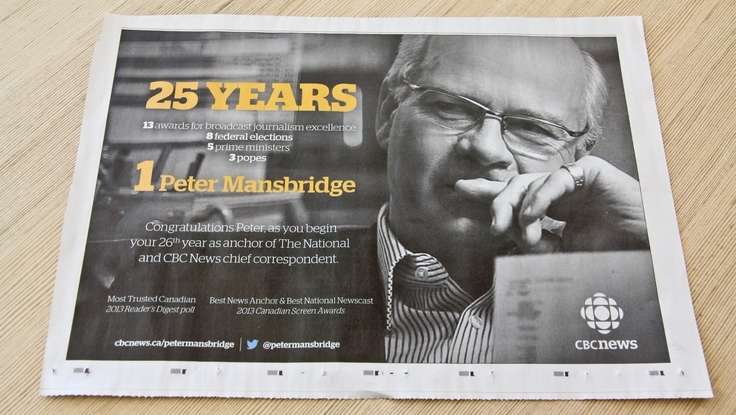 Celebrities
| May 02, 2013
Peter Mansbridge: Honoured For 25 Years As A Trusted Voice In Media
Celebrating his 25th year on the air as the anchor for CBC's
The National
(and as the chief correspondent for CBC News), celebrity speaker
Peter Mansbridge
has become one of Canada's greatest public speakers. And, he's also one of the most trusted voices in the nation on current events. Mansbridge was just named to the #1 spot on the
Reader's Digest 2013 Trust Poll
. Released earlier this month, the poll awarded Mansbridge the designation thanks to his "Mansbridge Touch." Further: "We trust him because he plays it cool,"
Reader's Digest
writes of the news anchor. "He delivers the news without embellishment or manufactured urgency...and he provides the perfect counterpoint to the hyper-talkative pundits who surround him."
Mansbridge was also recently named as the best news anchor at the
Canadian Screen Awards
, and was the subject of a running 1/3 page spread in
The Globe and Mail
. The feature (pictured above) celebrates his quarter century run on television and his landmark achievements. It also offers congratulations on entering into his 26th year in Canadian media. Some highlights include: receiving 13 awards for journalistic excellence, being a part of the coverage over 8 different federal elections and 5 separate Prime Ministers, and covering the actions of three different popes.
Despite steeply declining ratings for most television news shows, Mansbridge's
The National
continues to pull in over a million viewers per night. "Most of the stuff that fills the Internet becomes irrelevant by end of day," Mansbridge tells
Reader's Digest
. "People watch us to see major events reported in context." Mansbridge brings that same spirit into all of his keynote presentations. Despite his immaculate success, he has remained humble and committed to delivering the content that matters to the nation most. In his talks, he draws on his years of experience on domestic and international events, and the hundreds of leaders he has interviewed, to share stories that bind the nation together. He also talks about effective leadership in any field, and how you can make a difference whether you are in the media, politics, business, or academia.