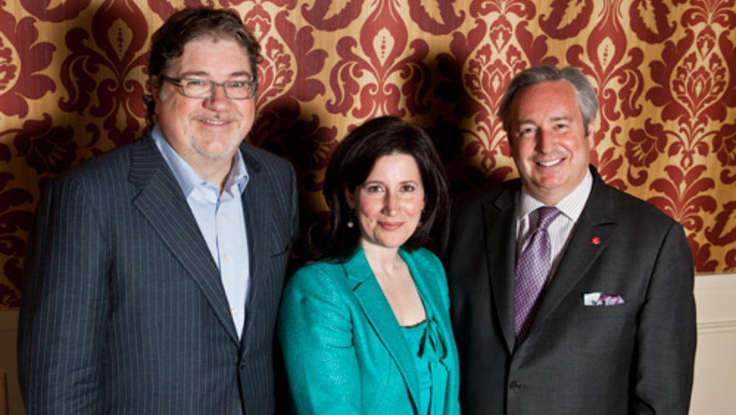 Politics
| April 30, 2012
CBC's Insiders Panel, Live: Political Insight & Self-Deprecating Humour
Today, members of CBC's popular Insiders panel
—
David Herle
, Kathleen Monk, and
Jaime Watt
—held their first-ever live event for a crowd of politicos, fans, and media. Billed as "a masterclass in Canadian politics," the event featured an astonishing depth of political insight, undercut by a self-deprecating sense of humor that kept things buoyant.
The Insiders—who have each worked behind the scenes at the upper echelons of Canadian politics—used visuals to illustrate their personal stories. The cheeky David Herle, a Liberal, delivered perfectly timed one-liners, while discussing past campaign mistakes and triumphs. Kathleen Monk told her campaign war story about the successful re-branding of an NDP candidate. The cool and quietly funny Conservative, Jaime Watt, who is also president of the Canadian Club, focused on the topsy-turvy election in Alberta, and reflected on public strategy in politics and the media.
During the Q&A, the Insiders fielded questions about the future of Canadian politics, the importance of youth participation in politics, media (mis)representation and more personal anecdotes—all the while poking fun at themselves, at one another, and taking full advantage of the live setting by playing off the crowd. When a tough question came up, Herle quickly responded, "I think we've forgotten to notice that our time is up!" The Insiders, it would seem, have found the missing ingredient to the perfect political panel: a humbling, and very Canadian, sense of humour.
Photo above: The Insiders (David Herle, Kathleen Monk and Jaime Watt), at their first live event, at the Canadian Club of Toronto, shot by Lavin marketing producer Paul Terefenko.