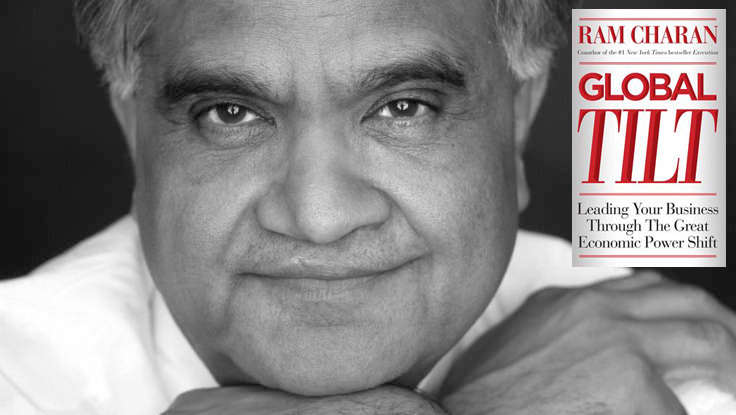 Business Strategy
| April 01, 2013
First Look: Global Tilt, The New Book From Business Speaker Ram Charan
The business world is in a state of flux and many people are struggling to keep up. That's where renowned
business speaker
and
New York Times
bestselling author
Ram Charan
comes in—with a new book on navigating this changing landscape. In
Global Tilt
, which was released last month, Charan chisels his decades of business experience into one easy-to-digest collection of practical advice to help companies survive these tumultuous times. "The global tilt,"
the publisher's description
of the book reads, "is nothing less than an irreversible shift of economic power—jobs, wealth, and market opportunities—from a small part of the world to its entirety. It is improving the lives of millions of people around the world, and while it is creating immense opportunities, it is disrupting the world as you know it with dizzying speed." Highly sought after by leaders in all industries, Charan shares his first hand insights on the companies that are successfully navigating this massive shift—and how your company can follow in their footsteps.
Here's what some of today's top business minds are saying about the book—and why they've added it to their "must read" pile:
"Ram is a gifted visionary who is above all a pragmatist. He knows that the pathway from the possible to reality is not linear, but one of applied imagination and strategic leaps. In
Global Tilt
, Ram teaches us that unlearning is essential to new learning, with many examples that will both inspire and educate even the most seasoned business leader."
—Inge Thulin, Chairman of the Board, President and CEO, 3M Company
"This is necessary reading for anyone charged with strategic planning or investing in emerging markets; for the rest of us, it's fascinating information to absorb and a window onto our economic future."
—Publisher's Weekly
"
Global Tilt
is more than just a crisp and insightful look at the North to South power-shift taking place in the world today. It's a brilliantly crafted managerial and strategy blueprint for leaders of businesses and organizations that are trying to make sense of this dynamic new landscape. This is Ram and his sharp strategic acumen at his very best. No CEO's library should be without it."
—Muhtar Kent, Chairman of the Board and Chief Executive Officer of The Coca-Cola Company