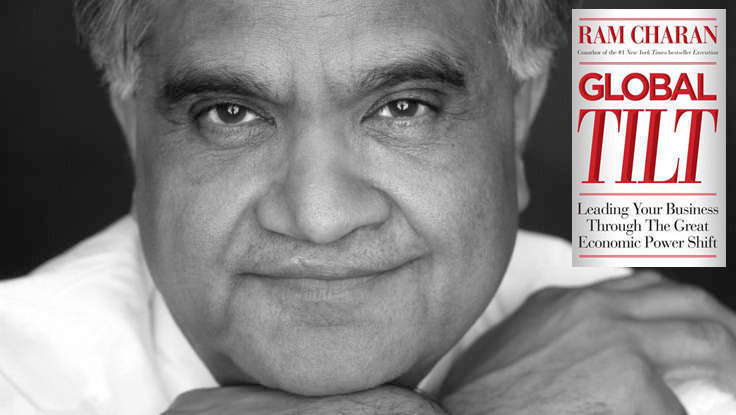 Business Strategy
| June 28, 2013
Ram Charan's Global Tilt: "Authoritative Business Advice Few Can Match"
"[Ram] Charan
isn't bashful about telling managers what to do," Geoff Colvin writes in
Fortune
. "[And] managers shouldn't hesitate to do it." Economic power is shifting from North to South, the sought-after
business speaker
writes in his new book,
Global Tilt
. While many business leaders are aware of this shift, few are taking advantage of the new opportunities it brings. What's worse, some companies are being steamrolled because they aren't adapting.
"Charan tells and shows us how we must change," the
Fortune
review continues, "speaking with an authority few can match." In fact, it's Charan's "tell it like it is" approach that the magazine praises most. He knows more about business than any individual CEO,
Fortune
adds, and "everybody calls him" for advice because he's a "top global consultant." His book is ripe with case studies of businesses who are navigating this global power shift successfully. Leaders can learn not only from the success of their peers, but also from the tactics their Southern competition is employing. It's about acknowledging that the competition is good, but even more so, it's about knowing just
how
good they are. Now is not the time to be flippant about the changing business platform, Charan proves. Instead, it's crucial that your company understands and embraces what's working in other parts of the world.
Charan custom-tailors the advice he presents in
Global Tilt
to match the needs of the companies he speaks to. With over three decades of experience working with the world's top companies, he has the insider scoop on what works—and what doesn't. In a rapidly changing economy, it can be tough to determine the best strategic approach to competing in a interconnected market. With Charan on board, your organization will be up-to-date on the biggest shifts in the business world. What's more, you'll be able to put his timely advice to work right away and drive your organization to the top.