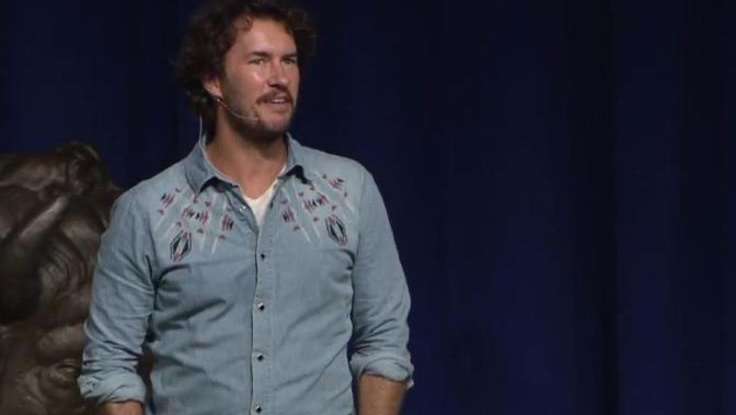 Social Change
| December 17, 2012
Blake Mycoskie: Doing Good Doesn't Just Make Dollars—It Makes Sense [VIDEO]
"I feel like I'm living my dream right now," social change speaker and TOMS shoes founder
Blake Mycoskie
said in a
recent speech at The University at Buffalo
, "which is a great, great feeling that I feel very blessed to have every day." Mycoskie gave the keynote speech at the
UB Distinguished Speakers Series
(where
Steven Pinker
will also speak in the spring) this month and shared the story of how he started his company—and how others can incorporate the power of giving into their own ventures. His company popularized the one-for-one movement, where each purchase made translates into a donation of a similar item to someone in need. He explains that this new model of doing business is moving into the mainstream, and that companies can't afford to miss out on this new opportunity.
"What companies are realizing is that just kind of giving the bare minimum for tax purposes isn't enough anymore," he says in the talk, "and that if they incorporate giving into their actual product it will not only help drive sales and be good for business—but it will have more loyalty." The triple bottom line (which includes three pillars: people, planet, and profit) is something that he says many companies are now working into their existing strategies, and new companies are using as their initial business model. Mycoskie says that helping others see the benefit of this business model is just as exciting to him as working on TOMS. "The dream for me is that TOMS is that catalyst that gets other people to take this leap of faith of incorporating giving into their business," he explains. He hopes that others will be inspired to do good after hearing about the success that he has had, and that young entrepreneurs can meet the many existing needs through similar models.
Judging by the feedback he received at the conference, it is safe to safe that he is certainly making an impact. One of the attendees told Mycoskie in a meet-and-greet after the talk that after reading his book,
Start Something That Matters
, she was compelled to start her own business—and has since done so. His entrepreneurial spirit is infectious, and he takes his breadth of experience in the field (he had started five other businesses before TOMS) to explain how you can use philanthropy to win at business—while doing good at the same time.