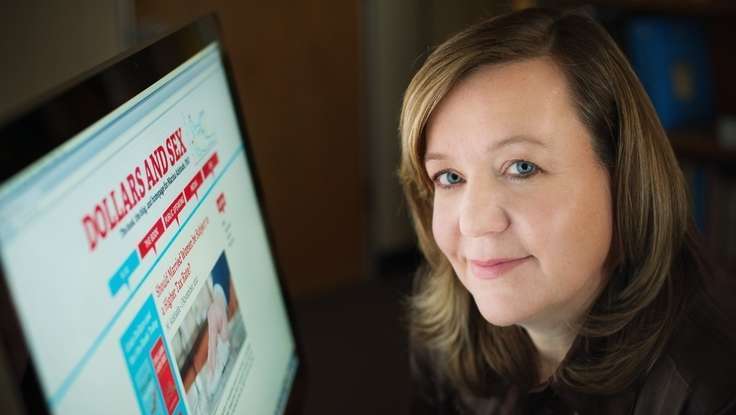 Big Data
| March 04, 2013
Big Data & Love: Marina Adshade In Canadian Business
"The pleasure of reading [
Marina Adshade
's]
Dollars and Sex
,"
Canadian Business
writes
, "is that Adshade doesn't have an agenda to push...The book is a clever collection of small conservation-ready revelations packaged in an accessible way." In the article, the author explains that Adshade's market lens approach to love is equally as refreshing as it is eye-opening. "As a writer, she is blissfully unsentimental about her material. She's interested in people's choices, not in judging them...that's her greatest strength." Using swarms of data gleaned from researching the habits of online daters, Adshade was able to cut through the sentiment and provide some startling findings. And, she was able to tell a story about the things people actually look for in relationships—instead of what they
say
they look for.
For example, people are often inclined to downplay the importance of salary or good looks in a partner when asked in a survey. However, as Adshade writes in her book, the data tells a totally different story. In fact, money and physical attractiveness are both extremely important when people choose their mates. By looking at love and dating from a purely economic standpoint, rather than a dewy-eyed, romantic outlook, Adshade presented a unique perspective on human relationships. Her view on the purpose of marriage? "Efficient production of household goods and services, and insurance in bad times." Adshade also provides evidence to suggest a strong correlation between lower tuition costs and lower promiscuity. She tells the facts about matters of the heart—something that is extremely difficult for most of us.
The book, which is forthcoming, has gathered a great deal of media attention so far from outlets like
The New York Times
and
The National Post
. When she's not writing or contributing to her blog, Adshade teaches a popular class at the Vancouver School of Economics at the University of British Columbia. In her lectures and her keynote speeches, Adshade shows us how money and market-theory affect our love lives—and how we can use that data to navigate modern courtship.