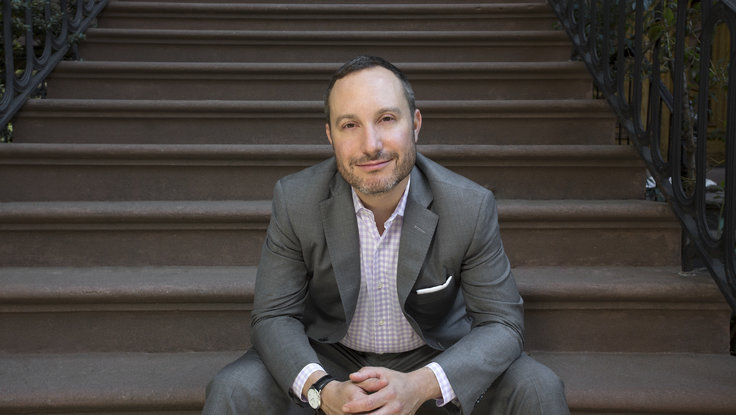 Exclusives
| September 16, 2015
"A Human CliffsNotes": Introducing New Speaker Brad Grossman
Click-to-brick. Big data. Augmented Reality. Startup-ification. Uberization. Wearables and the Internet of Things. If you're paying attention, you know that today's culture is moving at an incredible pace. But unless you've got a fleet of attachés, staying on top of business and culture—or even the latest buzzword—can be a full-time job. Luckily, that's where
Brad Grossman
comes in. In his customizable, industry-tailored talks, he not only breaks down and explains the next big things in business, innovation, marketing, media, arts, and culture, but he provides keen insights on how to stay informed (and stay that way).
Grossman got his start working as a cultural attaché for Oscar-winning producer Brian Grazer (
A Beautiful Mind
,
Apollo 13
), keeping the man informed of the leading-edge issues and personalities of the day. After years of navigating the churning waters of culture, Grossman is now CEO and founder of the weekly Zeitguide: a palatable, multi-vertical compendium of what's going on in every industry, and a reliable distillation of the most important societal shifts (think of it as an invaluable clippings service, updated for the Internet age).
Whether working alongside renowned artists, innovative startups, or legacies trying to adapt to a new landscape, Grossman has evolved from a self-made autodidact to the head of a plugged-in team of top-quality researchers, curators, and business anthropologists. In his talks, he works through six pillars of culture—digital transformation, globalization and urbanization, consumer workplace shifts, policy and regulation, creativity, and leadership—but makes sure the specific advice doled out makes sense for your particular sector. No matter who, or what, he's speaking to, Grossman has that rare ability to cut to the bone of what matters, delivering takeaways with immediate applications (GE's Beth Comstock called him "a human CliffsNotes").
In a world where fortunes are made by those already two steps ahead, Brad Grossman's perspective can make the difference between playing catch-up and leading the conversation.
To book Brad Grossman as the keynote speaker for your next event, contact The Lavin Agency speakers bureau.