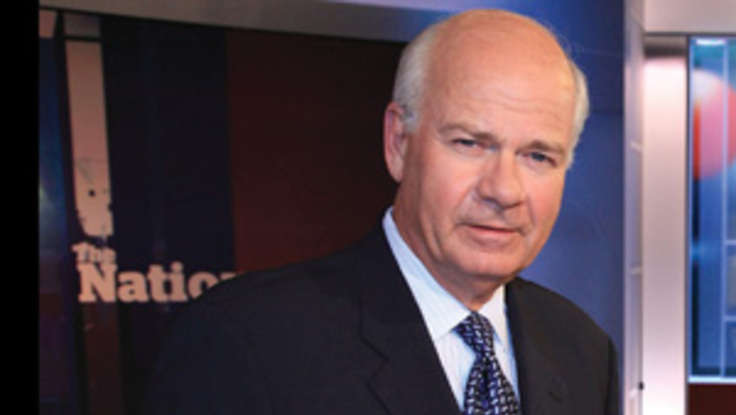 In Conversation
| May 22, 2012
The Only Interview I'm Giving: Conrad Black Speaks to Peter Mansbridge
It was a big get for the CBC News, and for its Chief Correspondent, Peter Mansbridge.
In what was hailed as his only scheduled interview for a long time, Conrad Black sat down with Mansbridge for an hour and a half
conversation
—thirty tantalizing and often quite funny minutes of which aired last night on The National. Mansbridge is a seasoned interviewer (see his book, Peter Mansbridge One on One, for ample proof), and he led the famously verbose Black, newly released from US prison, through a wide range of topics. The two talked, easily, about Black's views of the American judicial and prison systems; his life behind bars; his comeback; his views on his public image; and his tricky relationship with Canada.
Peter Mansbridge asks poignant and direct questions but, like the best interviewers, he does more listening than talking. Here's a bit from their interview:

Mansbridge: I thought you'd be against Twitter because there's no way Conrad Black could say what he wanted to say in 140 characters.

Black: No, I can manage that. And I think they've done a good job in destabilizing totalitarian or despotic regimes. But just the idea of twittering is bothersome to me.

Mansbridge: Some of the words you use are more than 140 characters (Black laughs) let alone the sentences.

Black: That is a Brobdingnagian insult. (Laughter.)

Mansbridge: Really. I'll look that up on Google right now.

…

Mansbridge: How far do you take your obviously very strong fuse about what prison is and what it should be, to the current debate that exists in this country?

Black: Well, that's a good question. But you see...I am a temporary resident...I remember discussing with you on another television program years ago why it is that I am not a citizen at this point. I always intended to take my citizenship back when that was appropriate. But as I am not a citizen I think I have to show a certain attention to the etiquette here. It's not my place to come in here on a temporary resident permit and get up on a soap box and harangue the government. The fact is I think it is a good government and I'm a supporter of the government because I urged my readers to re-elect it. But in this area I think they're very mistaken.
Full transcripts of Peter Mansbridge's interview with Conrad Black can be found
here
.