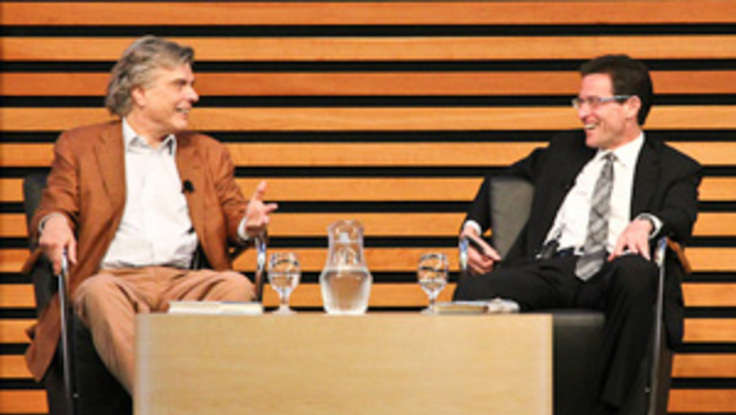 Economics
| May 15, 2012
Jeff Rubin Talks to Michael Hlinka About The End of Growth
At a packed Toronto Reference Library event last night, CBC
financial expert
Michael Hlinka
sat down to talk with economist and bestselling author
Jeff Rubin
about his new book,
The End Of Growth
. The two speakers shared a relaxed and animated rapport, even when discussing grave matters like bailouts and economic disruption.
The End of Growth
is an ominous title, but Rubin's projected view of the future—a "gearing down to a much slower rate of economic growth"—will have its silver lining. "Our drive to environmental destruction is going to run out of fuel if our economies stop growing," he told the audience."If we don't grow, we don't emit."
The author of the previous bestseller
Why Your World is About to Get a Whole Lot Smaller
, Jeff Rubin proposes in his new book that the end of cheap oil and economic growth is near. And, in the long run, that's a good thing. Rubin was adamant that we learn from the mistakes of Greece and Spain, and that we try to live more like Denmark: drive less, bike more. After the next inevitable bailout, he said to Hlinka, there will be the regulatory reform that we have been waiting for.
Michael Hlinka, a straight-talking and sharp-witted CBC business commentator, was the perfect host for the evening: he asked most of the questions, but also added some thoughts of his own. Hlinka agreed that despite the daunting triple digit oil prices and looming bailouts that Rubin describes, there is also "a profoundly positive, upbeat message" in
Growth
. The more resilient economies, Hlinka said, are those that reduce energy consumption. "It's the economy that controls emissions," Rubin added. "We can still shape the world we want, but only if we let go of the world we know."
Indeed, the mood was surprisingly light for an economics talk. Jeff Rubin's slow and self-assured arguments were punctuated with dry wit and coloured by personal anecdotes. Michael Hlinka's rapid-fire questions and punchy humour, meanwhile, served to energize the audience